Ctg depot fire: Many victims risk losing eyesight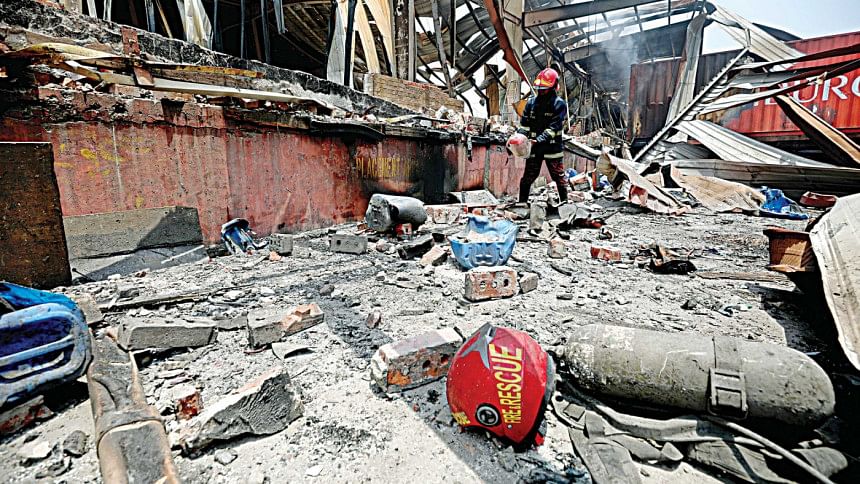 A majority of those injured in the Chattogram depot blasts have suffered eye injuries and many are at risk of permanent vision loss.
More than half of the 100 patients admitted at the burn and plastic surgery ward of Chattogram Medical College Hospital (CMCH) and all 19 at Sheikh Hasina National Institute of Burn and Plastic Surgery in the capital are suffering from eye injuries.
Meanwhile, firefighters have found 12 more containers laden with chemicals in the depot yesterday. The series of explosions since the fire broke out at the BM Depot in Sitakunda on Saturday night could have been caused by the presence of hydrogen peroxide inside the containers.
Firefighters recovered two more bodies at the depot, raising the death toll to 43.
The fire was brought under control and almost doused as of last night.
About the 19 patients with eye injuries in the capital, Dr Samanta Lal Sen, chief coordinator of the institute, said, "They are being treated by eye specialists alongside receiving treatment for burns."
Imrul Kaisar, a police constable, was receiving treatment in CMCH. His eyes were seriously affected in the blasts and he also suffered burn injuries on his legs, said Sadia Akter, assistant registrar of the burn and plastic surgery unit at CMCH.
An eye specialist yesterday morning visited Kaisar and suggested shifting him to Dhaka for better treatment, said Raihan, the constable's elder brother.
"We will make a decision after talking to senior police officials," he added.
When visiting CMCH yesterday, Dwin Mohammad Nurul Haque, former director of National Institute of Ophthalmology and Hospital, said he attended to 63 patients and almost all had eye injuries.
"Many may lose vision permanently if proper treatment is not started immediately," he said.
"They should be shifted to Dhaka for that, but they also have burn injuries, which is why they cannot be shifted right now.
"The eyes of six patients are in critical condition," he added.
The eye specialist also announced that a high-level medical team would be formed to provide their treatment.
On Monday, Samanta Lal Sen visited the CMCH and stressed on installing a burn ICU in Chattogram.
"Due to a lack of burn ICUs in Chattogram, many critical patients have to be shifted to Dhaka," he told journalists.
Doctors at CMCH's burn and plastic surgery ward are struggling to cope with the number of patients.
"Our ward has the capacity to serve 60 patients, but around 100 are now admitted. We are trying our best to provide proper treatment, despite shortage of doctors, nurses, staffs and other limitations," said Rafiq Uddin Ahmed, the ward's chief.
CONTAINERS WITH CHEMICALS SET ASIDE
Fire Service and Civil Defence officials yesterday said the depot had around 27 chemical-laden containers, said Md Akhtaruzzaman, fire service assistant director.
Of those, 15 containers with hydrogen peroxide had exploded following the fire. The remaining 12 are still inside the depot premises, and were shifted to a safe distance of the compound to avoid further fires.
As the chemical-laden containers had close contact with fire for a long time, there is a chance of further explosions, said firefighters.
"We've lost our fellow firefighters in the fire as the depot authorities did not inform us about the chemical-laden containers," Anisur Rahman, deputy director of Fire Service and Civil Defence, said at a press briefing in front of the depot.
Around 12:30pm, fire service officials recovered two more charred bodies from under the wreckage of containers, Akhtaruzzaman said.
"We suspect that one of the bodies is of a firefighter as we found a piece of uniform. Another victim may be a security guard. We're still searching for bodies."
Three firefighters have been missing since the incident.
After three days, the fire is under control and almost doused, said Lt Col Ariful Islam, commander of Brigade-18 of Bangladesh Army's 24 Infantry Division which is helping with the search and rescue.
Inspector General of Police (IGP) Dr Benazir Ahmed yesterday visited the spot and said legal action would be taken against those responsible for the fire and subsequent container explosions.
The probe committee of Chattogram Divisional Commissioner's office yesterday visited the spot and collected evidence.
So far, identities of 26 deceased were confirmed. According to police and fire service at least 200 persons including police and fire service personnel had suffered injuries.