'It was premeditated; pickup van targeted 6 brothers'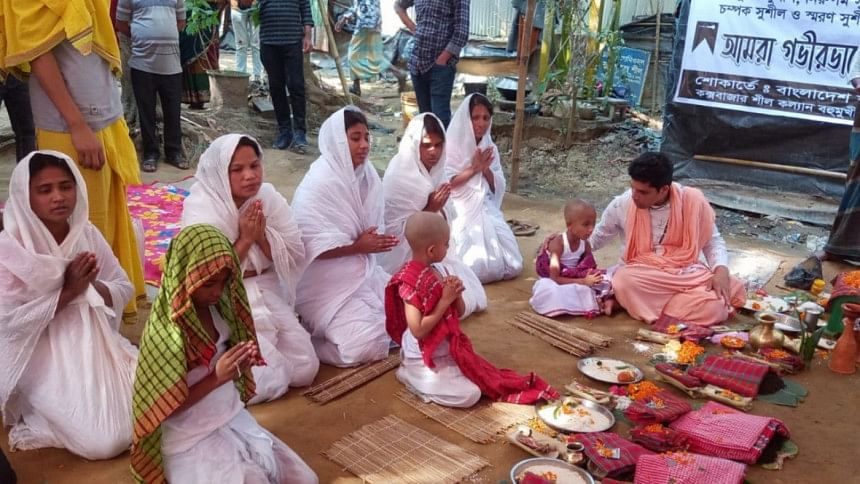 "My six brothers and one sister were about two arms' length away from the road on the day of the accident. My other brother and I were on the street. Instead of hitting us, the pickup van targeted and crushed my brothers. The vehicle then came back and crushed my injured sister after killing my brothers," said Munni Sushil, who survived the road accident in Chakaria upazila on February 8, last night.
Five of her brothers were killed by the pickup van that morning. Two other brothers and a sister were also injured in the accident. Among them, Raktim Sushil is now fighting for life at Chittagong General Hospital.
"It's a premeditated murder," Munni said. "If not, why did the vehicle crushed my brothers who were away from the road instead of killing the two of us who were standing on the road?"
Asked why the killings appear to be planned, Munni said, "On January 29, 40-50 miscreants attacked our house. They threatened to kill my father. The next day, January 30, my father died of a heart attack."
Asked who attacked and why, Munni said, "For the last 10 years, my father had been arranging Durga Puja here with the family."
Her brother Deepak Sushil, who was living abroad, brought about 4,000 bricks and gravel to build a small temple in Hasinapara area in the second week of January, Munni said.
"Since then, my father had been receiving threats," she added.
At their home, the mother of the brothers, Mrinalini Sushil lamented saying, "Whom will I go to with my grandchildren from the five sons?"
"Champak's daughter will be only one month old next Monday," said Mrinalini -- in tears -- about the new-born of one of the deceased brothers.
"My children have never harmed anyone. Why were my five children killed in this way?"
Mrinalini said that she hid two of her children under the bed in fear during the attack on January 19. "They attacked us because we wanted to build a temple," she said.
"We could not recognise the attackers," she said as they were outsiders.
The family have been living in Hasinapara village in Malumghat area of ​​Dulahajra union of Chakariya upazila since 2010. Around 30-35 Hindu families live in this village.
"We could not eat in the last four days. I can't bear to look at the little children of my dead brothers. The whole family is living in inhumane situation," said Munni Sushil.