Labour safety ignored at Rampal plant
Allege injured workers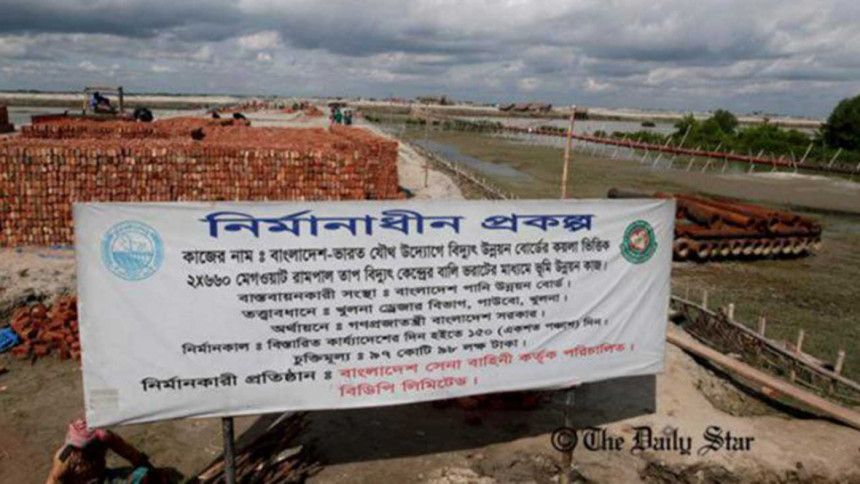 The death of 15-year-old Sajib, a worker at the Rampal Power Plant site, brought attention to an issue that went previously unnoticed -- the lack of safety gears and the unsafe conditions that the plant workers have to face.
Sajib, on Friday, was electrocuted during work, as he was not wearing any protective gears. Three others were injured when they tried to save him.
They were rescued and taken to hospital by their co-workers. No authorities concerned of the plant, however, came to their aid.
Workers at the Rampal Power Plant work without any safety gears, said Milon, one of the injured workers who was undergoing treatment at Khulna Medical College Hospital (KMCH).
Another injured, Jafar Ali, 22, was being treated at a local clinic.
Milon, laying injured in Ward-7 of the Medicine Department with burn injuries to his hands and chest, described how the accident occurred.
He told The Daily Star that around 20 workers were assigned to cut iron plates. All of them, however, were not equipped with safety gears for the hazardous job.
"While working, Sajib suddenly got electrocuted. I was working next to him and I tried to save him," he said.
Sajib died on his way to KMCH.
Working in the plant since the beginning of the year, Milon said, "I usually use safety gears like helmets, gloves, protection goggles and masks. Most of the protective gears are not given to us by our contractors and instead, we have to buy them ourselves. I bought my helmet and gloves from Mongla."
However, due to the conditions they have to work in -- humid and under the sun -- most of them do not use shoes or gloves and instead opt to wear sacks or torn clothes to be comfortable during the job, he said.
"Sometimes when top officials of the project come to visit the plant, we are forced to wear protective gears. Otherwise, very few of the workers use it," said Milon.
He added that only a few high officials and foreign workers are provided with and use safety gears, said the worker. 
Currently, over 600 workers have been hired by contractors and sub-contractors on a daily and permanent basis at Rampal Power Plant site. They are hired for several kinds of work, including building blocks made from concrete, cutting iron plates and unloading construction materials from the jetty. Apart from not being provided with safety gears, the workers were also not given any training for safety during such work.
When asked about the incident, Arun Chowdhury, additional general manager (AGM) of Bangladesh-India Friendship Power Company Pvt Ltd, told The Daily Star that many workers have been hired by contractors and sub-contractors and they have been working tirelessly.
Arun, however, did not comment further on the accident.
Sheikh Lutfur Rahman, officer-in-charge (OC) of Rampal Police Station, told The Daily Star that no one has filed any complaint, general diary or case regarding the death or the accident.
On the other hand, Momotazul Haque, OC of Khulna's Sonadanga Police Station told The Daily Star that an unnatural death case was filed by the ward master of KMCH on Saturday.
On the same day, the body of the dead worker was handed over to his parents without any postmortem as authorities did not want to publicise the incident, local sources alleged.
"The victim's parents came to their son's body and did not file any complaint against anyone," OC Momotazul said.
Abu Taher, a member of the local Union Parishad and Sajib's neighbor, told The Daily Star that Sajib's family was, however, given compensation.
However, none of the other authorities concerned from the power plant made a comment in this regard and journalists were barred from entering the plant after the accident.