Alfaz Calls It Quits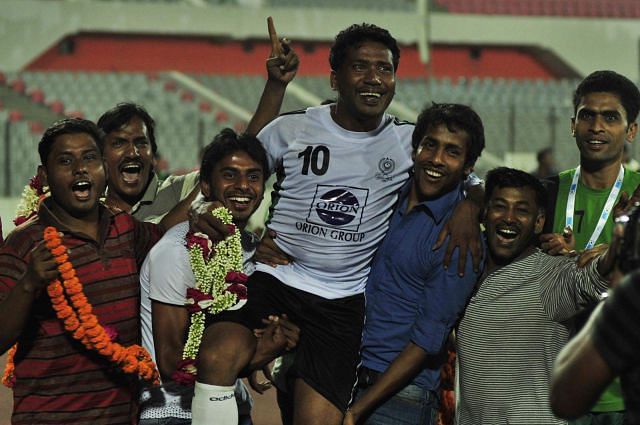 Former national captain and star striker Alfaz Ahmed is being hailed on the shoulders of Zahid Hossain Emily (R) and Mithun Chowdhury (L) during the match, which the celebrated striker chose as his last as a professional, between Mohammedan and Abahani at the Bangabandhu National Stadium yesterday. PHOTO: FIROZ AHMED
Veteran striker Alfaz Ahmed called time on his illustrious career yesterday wearing the captain's armband for Mohammedan in their Bangladesh Premier League encounter against Abahani at the Bangabandhu National Stadium.
Alfaz played for his beloved Black and White outfit for the first 19 minutes of the game, before being replaced. He was honoured with flower-bouquets by the clubs he played for in different times, Bangladesh Football Federation, the players' association, Sonali Otit, Referees' Association, and Mohammedan supporters group.
Alfaz's colourful 28-year career saw him achieve a lot of successes, recognition, and honour including being named "AFC's player of the month" in August in 1996 for scoring four goals including a treble for Mohammedan in the AFC Cup Winners Cup in Bangladesh. He was also a member of the Bangladesh squad in their triumphs in the Grand Royal Challenge Cup in Myanmar in 1995, the 1999 SAFF Games in Nepal and 2003 SAFF Championship in Bangladesh.
"I would have been nobody but for football, which gave me everything," said Alfaz Ahmed after playing his second match of the season for the Black and Whites.
"Retiring from football is at the same time disappointing as well as pleasing for me," said Alfaz. "Firstly, I will not be seen in the pitch as a player which is disappointing for me. Secondly, it is pleasing for me because I was given a grand stage like the match between Mohammedan and Abahani to hang up my boots."
However, Alfaz doesn't want to leave football as he wants to develop a new career in coaching. He has already been appointed football director of Cambrian-Midfield Sports Academy, which will be launched from April 19. Alfaz, who has already been working as an assistant coach of Mohammedan, wants to earn the AFC coaching certificates to be eligible to guide the club teams in the professional football league.