Afghan graffiti artist makes her mark in India
Malina Suliman's "crime" was to paint the walls of Kandahar with the graffiti of a skeleton wearing a burka and the depiction of an ordinary Afghan entangled between an American tie knotted to a turban worn by the Taliban.
She defied the Taliban for as long as she could.
But when the threats became frequent and after her father's leg was broken in an attack, she had to flee her hometown a couple of months ago and take refuge in Mumbai.
Suliman, the youngest of eight siblings, recalls the beginning of her trauma last year.
"I would paint graffiti on the rocks and walls and they would throw stones at me and condemn me. I would move to another area but they would follow me there and pelt me with stones."
Her sculptures outraged conservative Muslims and the Taliban.
They declared that her work amounted to idol worshipping and therefore was anti-Islamic and warned her to stop immediately.
The parents of 23-year-old Suliman were not aware their daughter was painting graffiti on the city walls and rocks and making sculptures until they received a threat from the Taliban.
She then faced not just the wrath of the Taliban but also opposition to her work from her family.
"I was virtually under house arrest with no access to the internet and not allowed to meet outsiders. It felt like living in hell," she recalls.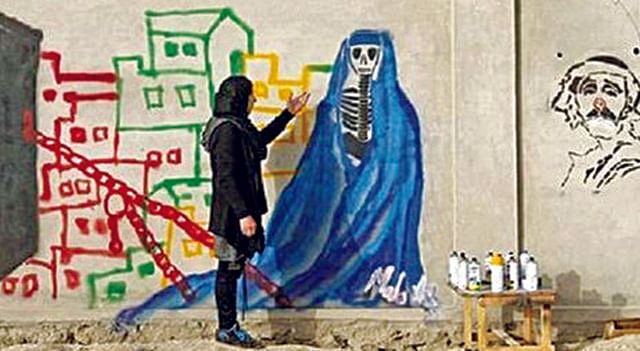 Malina Suliman's drawing of the burka wearing skeleton is a self-portrait.
Her graffiti was a desperate act of defiance both against her family and the Taliban.
"During my confinement at home I was overwhelmed with a lot of feelings. I realised there might be other girls facing the same problems as me. To paint at home would not have served any purpose. I wanted to send a message to the girls in my situation to have no fear and to express themselves in public."
The news of Suliman's courage spread and she was invited to the presidential palace in Kabul, where she was able to display her artistic talent.
But she is unhappy with the government paying only "lip service" to equality between men and women in Afghanistan.
She laments the fact that it is not just the Taliban "but the large majority of the Afghan people in Kandahar are becoming like the Taliban. We can't say all of them are Taliban but we can say all of them are like the Taliban."
The burka over a skeleton is a self-portrait, says Suliman.
"When I go out to paint graffiti I am completely covered in a burka and yet people gaze at me with contempt. Some curse me saying my place is at home. They even call me a foreign agent."
In sharp contrast, the sprawling campus of Mumbai's famous JJ School of Fine of Arts is a welcome creative hub for the young Afghan fugitive.
She works on her metal work artistry making a laptop-size key.
"Key is a recurring theme of my art. It opens the doors to success as well as the mental block of people."
In the school's large workshop, Suliman appears calm and peaceful, but beneath the surface is hidden a deep-seated worry, "I don't know what my future holds. I am struggling to break free both from inside home and outside."
Suliman says she would like to stay in Mumbai. "When I see boys and girls working together as a team here I feel elated. We need that kind of freedom in Afghanistan."
Source: BBC