Heart to heart with Burhan and Rehana Siddiqui
A shared passion for music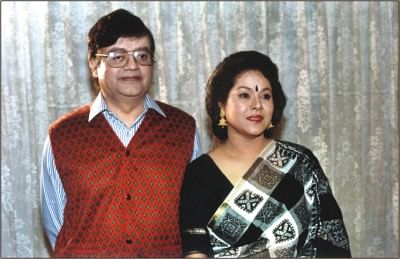 Ex-Police IG Burhan Siddiqui and his wife Rehana have been in the news lately. Their duet album, titled " Ami toh tomari achhi", was released this month.
Burhan Siddiqui's profession never stood in the way of his passion for music. Even after his retirement from the service, though he served in several important positions in the government and was ambassador of Bangladesh to Namibia, he did not distance himself from the world of music. It meant hard work but he kept practising regularly. Today Burhan is an A grade artiste both on Bangladesh Television and Bangladesh Betar and a familiar name in the musical arena.
Burhan shares his passion for music with his wife Rehana. She is a distinguished artiste in both Nazrul Sangeet and Adhunik and earned recognition much before she married Burhan. In fact, it was her musical talent that attracted Burhan to her. Today the duo have devoted themselves full time to music, more so after Burhan's retirement.
They have overcome several obstacles along the way: Finding a lack of recording facilities in the country, they have established a full fledged recording studio in the basement of their house. Both the artistes have released several albums: solo, duet and with other reputed artistes.
Recently The Daily Star had the opportunity to chat with the couple on a range of issues:
Can you tell us about how you developed an interest in music?
Burhan: In my younger days in Chittagong, singers were few and far between. However, since my home environment was favourable for music, I discovered that I had a natural talent for singing to the strains of a harmonium.
On completion of my college studies, I moved to Lahore where I resumed my singing. At that time, though Rabindra Sangeet was virtually banned in Pakistan, I decided to immerse myself in this genre. I even performed Tagore songs for Lahore Television. However, when I joined the police, the demands of my job did not allow me to devote as much time to music as I would have liked. In fact, people were sceptical as at that time it was unusual for a police officer to sing as well. I only returned to the world of music when Rehana inspired me to.
In fact, it was our common interest in music that drew me to Rehana. At the time she was a familiar face on TV. It was Rehana who insisted that I pursue my interest in music and with her help I began again. I had to stay out of the country for long stretches of time. However, wherever I was, I never put music aside ever since Rehana came into my life.
Rehana: My story is somewhat different from Burhan's. I grew up as a singer from the very beginning. I was fortunate as there are many enlisted radio and TV artistes in my family, including my aunt, noted artiste Hasina Momtaz. I was a student of Chhayanaut, but could not finish my course, as my father's job required him to move around. There is a general belief that it is hard for a woman to carry on with her music after marriage, but in my case, as you can see, it only fuelled my interest in singing. As a matter of fact, both of us had to compromise on our passion as we had to stay abroad for long stretches of time.
Today I am busy on another front: I have devoted myself to social work and run two organisations. One that promotes women's empowerment and the other an old age home for women.
What were the hurdles in pursuing music as a police officer?
Burhan: Indeed the two tended to clash sometimes. To practise music, one needs peace and tranquillity. In the police service you can expect anything but this. There were times when I was beckoned from my recording studio for my duties. I am a perfectionist; I always found it hard to satiate my passion for music. Today when I have the time, I am no longer young.