Tête-à-tête
Anupoma Mukti: Chronicle of a promising singer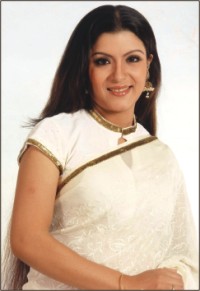 Born in Dhaka, Anupoma Mukti, a graduate from Home Economics College, Dhaka, entered the world of music at the tender age of four. Encouraged by her family, she completed a certificate course in Nazrul Sangeet from BAFA and began special training at the Nazrul Institute in the proper notation of Nazrul songs.
Mukti mainly performs at stage shows and the suburbs of Dhaka. She is also centre stage at wedding ceremonies and jalsas. Recently she spoke to The Daily Star (TDS) on a number of issues:
TDS: Who are your gurus and what is your forte?
Mukti: My husband Sharif Alam Rajkumar first introduced me to classical music. Later I trained under Mangal Chandra Mandal and Sujit Mustafa. I began with Nazrul songs and classical music. I also love to render adhunik and Hindi songs.
TDS: You have done playback for a few films. Would you share your experiences with us?
Mukti: I first did playback for a film titled "Andhokare Chita" in 2003. That was a duet and my co-artiste was Palash. Shawkat Ali Emon was the music director. In 2005, actress Suchanda made a film "Hajar Bochhor Dhore," based on the much-acclaimed novel by Zahir Raihan. I did a playback for that film. It was a duet with Subir Nandi. Eminent music directors Alauddin Ali and Ahmed Imtiaz Bulbul were the composers of that song. I was awarded BACHASAS Chalachchitra Puroshkar (jointly given by Keya Cosmetics and Fantasy Kingdom) for that song.
TDS: You also worked in some mixed and a solo album. Tell us about that.
Mukti: My mixed albums are "Sundari," "Pasha" and "Maa," while my solo album is "Jhinuker Mukto." The lyrics, tune and composition were done by Amitava Shyam.
TDS: Gaye holud and marriage ceremonies would be incomplete without Hindi and fast paced adhunik songs. Why not more traditional songs?
Mukti: I am comfortable singing such songs but have to keep up with the demands of the audience.
TDS: Did you face any hurdles in your stage performances?
Mukti: I am very selective about my stage performances. Before I sign a contract, I set the timeframe for a performance, especially those at night. Thus I avert many hurdles.
TDS: What is your dream?
Mukti: I want to establish myself as a prominent singer in Bangladesh through some timeless songs.