Microsoft Day @ Dhaka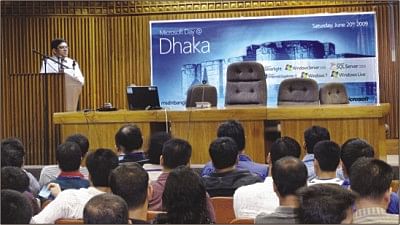 In a bid to enhance the level of skill of the people working in IT and development sectors, Microsoft community (Bangladesh) recently held its first ever developer/IT professional event at the IDB building of the city.
The event kicked off through the speeches of Country Manager of Microsoft Bangladesh Feroz Mahmood and Most Valuable Professionals (MVP) Lead Abhishek Kant from Microsoft India.
The event was divided into two tracks, one for development and the other for IT. The developer track focused on present and future technologies that would have direct impact on the software developers of Bangladesh. Development of IT professionals was in focus of the IT professional track.
The two tracks separated after the opening speech. The events featured sessions taken by Microsoft MVPs (Most Valuable Professionals) on a host of new and upcoming technologies from Microsoft.
The developer track had Tanzim Saqib gave a presentation on Asp.net development.
He was followed by MVP Mehfuz Hossain showing off features of Asp.net MVC.
MVP Kazi Manzur Rashid talked about unit testing in MVC and the design of the open source Asp.net MVC application, DotNetShoutOut.
This was followed by Faisal Hossain Khan. After lunch, MJ Ferdous talked on MS Sharepoint Server.
MVP Omar Al Zabir discussed the challenges appear while putting Asp.net applications into production.
This was followed by Ashic Mahtab's discussion about Windows Azure and cloud computing features and benefits.
After a brief tea break, MVP Md Ashraful Alam gave an overview of Visual Studio 2010 Team System.
Meanwhile, on the IT professional track, M Manzurur Rahman got things started with a session on MS Project and EPM.
After lunch, some time was given to facilitate networking with the MVPs. MVP Ismail Mohammed took a session on Exchange 2010. He did so via Microsoft's LiveMeeting software, which allowed him to contribute to the event over the internet (while remaining in India).
The next session was also done via online LiveMeeting, as it was MVP Amit Bansal from India who discussed the magic of SQL Server 2008.
After these proceedings, the tracks were remerged into the auditorium and MVP Omi Azad told the audience about the features of Microsoft's upcoming operating system, Windows 7.
He was followed by Irtiza A Akhter, who talked about features of Microsoft's latest browser, IE8 and Windows Live.
At the closing speech Microsoft Community announced that they were going to arrange events like this regularly and also in universities, so that besides the professionals, students can also learn about the features and benefits.
About 250 developers and IT professionals attended the event.
Such events bring forth new ideas and technologies to local developers and professionals, and provide them with an opportunity to network with some experienced and well-known people in the industry.