A touch of France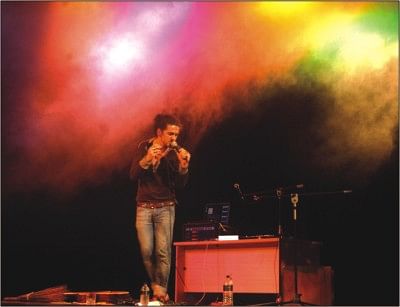 International French Drama Festival 2009, featuring eight popular French plays translated in Bengali, is on at the National Theatre Stage, Bangladesh Shilpakala Academy (BSA). Inaugurated on April 12, the festival has been organised jointly by Alliance Française de Dhaka, Natukey Theatre Dhaka and Fame School of Dance, Drama and Music, Chitttagong. Supported by the French Embassy in Dhaka, this is the second International French Drama Festival.
National Professor Kabir Chowdhury inaugurated the festival, saying, "France for many years has been the global capital of art and culture. French literature has influenced the world throughout decades. In Bangladesh also, our literary taste has been shaped by reading leading French litterateurs and dramatists."
Foreign Affairs Minister Dipu Moni was the chief guest at the event while Charley Causeret, the French Ambassador, was present as special guest. The guests of honour at the inaugural event included Ramendu Majumder, president of ITI world; Poet Syed Shamsul Haque; Nasiruddin Yousuf, president of Shammilito Shangskritik Jote and Professor Khan Sarwar Murshid. Jaquis Bounin, deputy director of Alliance Française de Dhaka, presided over the event.
"Bangladeshis are in general avid theatre enthusiasts; hundreds of plays are staged here every year. Major French playwrights and their works are quite familiar to the Bangladeshi audience. This festival aims at highlighting works by some new playwrights as well as the classic ones," said Bounin in his speech.
The opening ceremony included the staging of "Roméo et Jeannette" by Jean Anouilh. A production by the Indian theatre troupe Kalyani Kalamandalam (Kolkata), the play was translated by Basudev Chakrabarti and directed by Santanu Das.
Though the title reminds one of the famous Shakespearean romantic tragedy, "Roméo et Jeannette" is not a story of star-crossed lovers. Jeannette, a rude, yet spontaneous girl who does not care what others think of her, with her idiosyncrasies, immediately attracts her would be brother-in-law, Frederick. Frederick came to see his fiancée Julia and her family with his mother -- a formality, before their marriage. Overpowered by the irresistible attraction toward each other, Frederic and Jeannette decide to be honest about their relationship, only to discover that it's hard to cope with guilt, jealousy and lack of trust. Failing to deal with the reality together, they decide to die together instead.
The second day's programme featured a musical performance by contemporary French Artiste, Simeo. Simeo barged onto the stage with his instruments, putting on a real show. His performance was heavily pop-reggae accented with guitar, a bass, a fingerboard, a snar drum and a chisel; there was even a glass of champagne. The combination of the instruments produced a unique music.
The festival will continue till April 19.