Potato price doubles in N dists in two weeks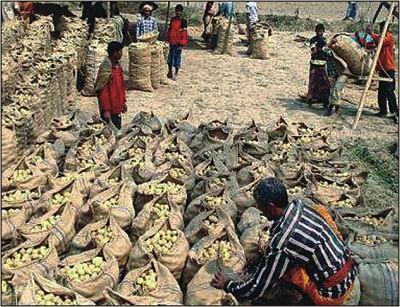 Potato price is galloping in the northern districts as the production faced a setback in the region this year.
A kilogram of potato is now selling in the retail markets at a rate double its price two weeks ago.
Regional Agriculture Office sources said potato production in Rangpur, Dinajpur, Thakurgaon, Panchagarh, Kurigram, Gaibandha, Lalmonirhat and Nilphamari districts fell short of target this year by 25 per cent as 22.5 lakh metric tons (MT) of potato have been produced in 1.68 lakh hectares of land in place of an expected 29.5 lakh MT.
Mamunur Rashid, a potato trader at Khalilganj Bazar of Kurigram district, said he is selling potato at around Tk 22 per kg. He said the local Bogra variety now sells at Tk 24 per kg. But their prices were Tk 10 and Tk 12 respectively just two weeks ago.
Due to rise in potato price, prices of other vegetables are also going up every day. In local markets, brinjal is now selling at Tk 20 which was Tk 18 a week ago. Similarly one kg tomato sells at Tk 12 instead of Tk 10. Prices of other vegetables including papaya, gourd and beans have also shot up.
Potato farmer Musa Khan of Panchpir village in Panchagara said he could not apply sufficient fertiliser in the sowing season due to high price. "This has caused poor yield of potato," he added,
Mizanur Rahman Mojnu of Itakhola under Nilphamari Sadar upazila said he missed half of the production as his fields were attacked with leaf blight, a deadly fungal disease, due to dense fog.
Habibullah Mia, a prominent potato trader of Nilphamari who usually preserves around 2,000 bags of potato every year in different cold storages, said he could keep only 700 bags this year. He said he is not getting potatoes suitable for preservation this year as the farmers harvested diseased potato.
Deputy Director of the Regional Office of Agriculture Extension Department Noor Mohammad admitted that potato production has been hampered this year. He held adverse weather, low quality seeds and high price of fertiliser during sowing period responsible for the poor yield.