93 heritage buildings, sites listed for preservation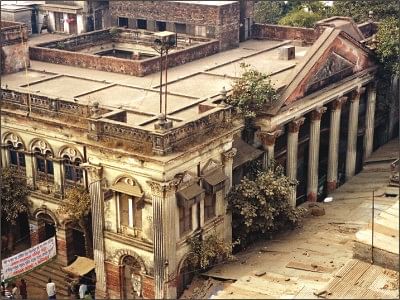 At long last, a government-formed expert body has come up with a preliminary list of heritage buildings and sites in the 400-year old capital city for preservation.
"We have prepared the first list of 93 heritage buildings and four areas in Dhaka city and submitted it to the works ministry on December 4," said Chief Architect of Bangladesh ASM Ismail said adding that they will prepare more lists in phases.
The list has been made in consideration of historical, aesthetic, scientific, social, cultural, religious, political and heritage value of the structures and sites.
Government's Nagar Unnayan Committee, headed by the public works secretary, formed a standing committee for the job with the chief architect as convenor on June 23 last year.
The committee at its 19th meeting on December 28, 2008 endorsed the list.
The Rajdhani Unnayan Kartripakkha (Rajuk) is expected to recognise the list officially through a gazette notification and issue public notice in this regard soon.
The development control wing of Rajuk will now notify the private owners of the heritage properties asking them to be cautious in any development intervention.
The Nagar Unnayan Committee has decided that the listed buildings and areas could not be fully or in part be demolished, rebuilt, altered or modified without its approval.
The standing committee has representatives from the Department of Archaeology, Buet, Dhaka University history department, Institute of Fine Arts, Bangladesh Institute of Planners, Institute of Architects Bangladesh, Asiatic Society, Dhaka City Corporation Public Works Department and a heritage conservationist Urban Study Group (USG).
Prof Muntasir Mamoon, a noted historian who has extensively worked on Dhaka, said that it was a praiseworthy initiative. The committee should make a complete list and send it to the experts concerned. He suggested for a heritage council.
"They should seek and accommodate opinion and recommendations from the architects, planners, historians and those who have worked on Dhaka's heritage treasure to set a modus operandi for conservation," said Prof Mamoon.
Architect Taimur Islam, who represents USG in the standing committee, expressed disappointment over delay in the committee's function.
The works ministry initially directed the standing committee to come up with a preliminary list within a month but the spirit of urgency did not work and it took six months, he said.
Crucial jobs like setting development guidelines, categorisation of the listed buildings and gazette notification are yet to be done.
He suggested speedy introduction of the concept of TDR (Transfer of Development Right) to compensate the private owners of the listed heritage properties and persuade them to cooperate with the conservation move. The TDR system has been in practice in India and Hong Kong in Asian region, he said.
The chief architect said that they are thinking of TDR system to compensate the private owners so that they cooperate with the government move.
They will get a certificate by means of TDR and will be able to sell it in certain areas allowing construction of building floors beyond existing ceiling.
Until the TDR comes in practice under legal arrangement, the Nagar Unnayan Committee will look into development proposal at enlisted sites.
The standing committee covered primarily 1528 square kilometres of Dhaka Metropolitan Development Plan (DMDP) area. It was formed as outlined in the Bangladesh National Building Code (BNBC), Antiquities Act 1976, and Dhaka Metropolitan Building Rules 2008.
Apart from specific significant buildings, the committee has enlisted particular roads in four areas including Farashganj, Shankharibazar, Sutrapur and Ramna.
The listed heritage properties will be categorised roughly in three groups of structures in consideration of their heritage value. One group will include structures unalterable at all, another group will contain those could be reconstructed partly and the last group will comprise those could be rebuilt completely, sparing a symbolic part as a relic.
As per provision in the Antiquities Act (Ancient Monuments Preservation Act of 1904), the Department of Archaeology can consider enlisting a historic or archaeological edifice only if it is 100 years old.
But the standing committee is mandated to enlist such an edifice considering historical, architectural, political, aesthetic and cultural value even if it is not 100 years old.
There are only 13 archaeological sites enlisted by the Department of Archaeology in Dhaka city.
Conservation of heritage properties in Dhaka has always been in a deplorable state.
According to Prof Mamoon, successive governments have allowed destruction of country's priceless cultural properties one after another.
According to Shamsul Wares, a noted architect, there would be hardly any testimony to the history, past traditions and lifestyle if heritage properties are not preserved.
Panamnagar, a township set up by Hindu merchants during colonial era in Sonargaon near Dhaka, has lost its originality and uniqueness as an architectural heritage site in the way of restoration carried out by the government, said experts.
The World Monuments Fund rated Sonargaon-Panam City as one of the most endangered heritage sites in 2006.
Conservationist architect Abu Sayeed M Ahmed said that Unesco refused to declare Lalbagh Fort as a world heritage site because of wrong restoration.
Dhaka University authorities have mutilated original architectural features of historic Curzon Hall in the name of 'repair and maintenance,' according to experts.
Private occupants have demolished inner block of Barabari, a grand building of colonial architecture at BK Das Lane in Farashganj. Ruplal House in Shyam Bazar has been occupied by traders. Shankhanidhi House, an enlisted heritage site, has been leased out by Dhaka district administration for commercial use.