Heart to heart with Tahsan-Mithila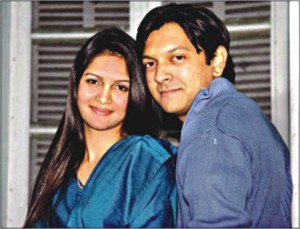 He was a serious IBA student, from a family with PhDs and no media link whatsoever, she was a political science student from Dhaka University with a family background in the media. They met in 2004 and love blossomed in the university campus via rickshaw rides and SMS. On August 3, 2006 Tahsan Rahman Khan and Rafiath Rashid Mithila tied the knot. Tahsan reached stardom initially through the band Black and went on to become a successful solo singer. Mithila is a well-known model and has appeared in ads for Meril, Bajaj, Close up and Aktel.
How did you meet?
We met through a common friend. While he left for the States we continued with our friendship.
What was different about Mithila/Tahsan?
Tahsan: All my female friends or fans would only praise me. Mithila was the only one who used to criticise and I used to hate that. But later I realised her criticism helped me rectify many mistakes; so her honesty definitely was a plus point. She understands that music is my life and she is completely supportive of that. I also absolutely adore her sweet voice.
Mithila: I have always liked people with musical talent. Initially I was attracted to his singing, but later as I got to know him better it was his dependability and overall personality that attracted me. Plus he imbibed this confidence in me; he showed me how well I could do things--even when I had apprehensions about them. My trivial idiosyncrasies would catch his fancy; it really made me feel special.
How did it happen?
Tahsan: From the beginning we realised this was more than just friendship. Plus in today's techno era the mobile played a vital role. On rainy nights we used to compose poems for each other and SMS. It's simpler to express emotions.
Mithila: Rickshaw rides in Dhaka university campus was one of our favourite dating mechanisms. We spent hours in every oli-goli(lane) on rickshaws lost in time.
How did your parents react?
Tahsan: My parents were overjoyed. They wanted us to get married immediately.
Mithila: Initially my father was a bit sceptical. Marrying his daughter off to a singer didn't sound too promising to him. But then Tahsan took up teaching at a private university and things were good.
Common comment: As a matter of fact we had just wanted to let them know about our relationship so that they didn't hear about it from others but they convinced us to get married.
Is this how you fantasised your dream girl/dream guy would be?
Tashan: No, Mithila is totally different from my dream girl. But frankly put, after meeting her I have forgotten what my dream girl was like.
Mithila: He is the antithesis of my ideal mate. I am very outgoing and love hanging out with large circles of friends. I also have plenty of male friends. But Tahsan prefers staying indoors and neither does he have many female friends. But at the end of the day opposites attract. Right?
What do you dislike about each other?
Tahsan: She is extremely short tempered.
Mithila: Yes I agree with him but what about the fact that he keeps irritating me? I definitely dislike that about him.
So that means you end up fighting a lot?
Combined comment (With a huge grin they agree). Oh yes we fight tooth and nail; we scream at each other. But interestingly within the next hour all our anger dissipates, we are back together, closer than before. Actually we both understand each other's point and make up.
What is the toughest part of being married?
Tahsan: Rules and regulations -- starting from my toothbrush to my closet, there are rules for everything. She never leaves me alone. But all in all I love the whole feeling of being married.
Mithila: How can I leave him alone when he keeps everything so messy?
Besides that I love being married. Before marriage I thought I might have to adjust and make change; maybe I won't be able to model. However, neither Tahsan nor his family have ever interfered. And his parents love me like their own daughter.
From the whole conversation it is so evident you are madly in love. What does love actually mean?
Tahsan: Is there a definition for love? In so many of my songs I have tried to define love, the day I will be able to define it, I will stop defining it in my songs.
Mithila: Love is a feeling you just can't describe.
The article is a reprint from an earlier version