Saching Prue new Mong King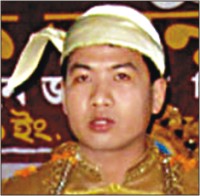 Saching Prue Chowdhury ascended the throne as the 8th Mong Circle's King yesterday evening following the death of his father Paihala Prue Chowdhury who died in a road accident on October 22 last year.
As a traditional Mong Raja, Saching is expected to rule different tribes, including Chakma, Marma, Tripura, Rakhine, Mag and Bangali settlers, who have been living in 1200 villages under 34 unions of Mong kingdom.
Divisional Commissioner of Chittagong Hossain Jamil handed over the traditional Mong King Sword to Saching while Ukkahala Banty administrated the oath at about 7:00 pm yesterday at his Madhupur office under Sadar upazila of Khagrachhari.
Awami League lawmaker Zatindra Lal Tripura, Deputy Commissioner AKM Khairul Alam, Khagrachhari Hill District Council (KHDC) Chairman Ruhity Karbari, Khagrachhari Army Region Commander Brigadier Mohammad Kamruzzaman psc, Superintendent of Police Mohammad Quaiumuzzaman Khan, Khagrachhari Municipality Mayor Joynal Abedin were present during the ceremony.
Saching's father Paihala Prue Chowdhury was the 7th traditional king of Mong circle in Chittagong Hill Tracts.
Saching will also rule some 88 mouzas with the help of 88 headmen (mouza heads) and 950 Karbaris (village chiefs).