Venus downs Jelena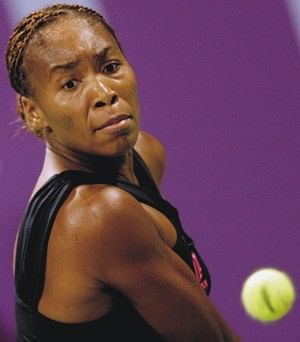 Venus Williams reached the final of the WTA Tour's year-end event for the first time in her career when she beat world number one Jelena Jankovic in a long, drawn-out thriller here on Saturday.
However the Wimbledon champion had several moments during the two-hour, 11-minute struggle when she looked physically stressed, especially in a final set lasting almost an hour.
"A couple of times I did feel distressed but you can't afford to lose these kind of matches," Williams said after her 6-2, 2-6, 6-3 win over the top-seeded Serb.
Williams succeeded despite frequently being forced to contain against a more mobile and surprisingly-aggressive opponent who had won five of their last six meetings, and who, after dominating the second set, seemed the more likely winner.
But Jankovic also tired, which hindered her chances of converting five chances to break back for 3-3 in the final set, in a pivotal game which had her mother Snezana calling out to her.
After that Williams was able to attack a little more, though her serving, which included eight double faults -- following ten the previous day -- was again patchier than she might have liked.
Nevertheless Williams three times got big first serves in during the deuce game in which she reached 5-3 and after that she took strength from the closeness of victory. She finished with an unstoppable straight forehand, backhand cross court angle combination.
She was watched sombrely throughout by her sister Serena Williams, the US Open champion who withdrew with a stomach muscle injury the day before. It was only when Venus got to match point that Serena grinned expansively.
The younger Williams' absence ensured there would be a surprise finalist, with Vera Zvonareva, the last woman to qualify for the eight-player event, continuing her giant-killing run all the way to the final with a fourth major scalp.
The 24-year-old Russian, who has never won a major title, overcame Elena Dementieva, the Olympic champion, 7-6 (9/7), 3-6, 6-3 -- only the second time in six attempts that she has beaten her better-known compatriot.
It followed Zvonareva's other victories this week over the world number one Jelena Jankovic, the French Open champion Ana Ivanovic, and the former US Open champion Svetlana Kuznetsova, to extend the finest run of her career.
"Here I knew I had to play good straight away," she said. "If not, there is no chance. I didn't have any expectations. I felt confident but I didn't know what would happen."
Already certain of the first season-end top ten finish of her career, Zvonareva also extended the biggest pay cheque of her career to 715,000 dollars so far.
"I've not really thought about the money," Zvonareva claimed. "I try to challenge myself and do my best and produce the highest level I can.
"I always try to be good at what I do. If I am not good I don't touch it. If I am I try to make it perfect."
Remarkably for the player possessing the slightest build of any in this tournament, Zvonareva was often able to force the pace from the back of the court, rifling flat and brilliantly accurate groundstrokes into tight corners and sharp angles against her much more powerful opponent.