Every artist should have a personal language – Monirul Islam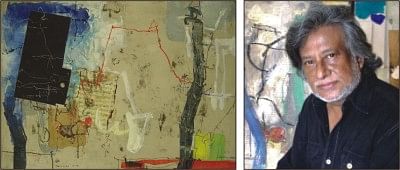 Artist Monirul Islam's works speak of humanity -- bliss and woes, fond memories and more. "After so many years in the world of art, I now realise that artists are not products of any institution or school, they are born this way. And creativity is distilled in one's innermost being, in one's very personal world. You cannot teach someone to be an artist or a poet. It's an inherent trait/talent. Nature works in mysterious way," says the veteran artist.
Monir's observations on contemporary trends: "We are actually going through a time of crises economically, socially and politically. Every hundred years or so crises occur for various reasons. These reasons cannot be definitely pinned down. European artists right now, for instance, are mostly running short of imagination or ideas. So they are travelling the world in search of fresh themes. I think this is possible since art is not limited to any distinct region or country. I think every artist should have a personal language which makes him or her unique."
He continued, "When I'm working, I like to meander about and evaluate the progress. My work is not concluded, until I'm satisfied. I think an artist can be a critical observer of his/her works. If the work satiates his/her creative urges, then the endeavour is a success. I always try to add new dimensions and novel themes in my works. Past, present and future -- the three stages of time may carry meaningful situations, adding to the sum of our knowledge and experience. We all are shaped and blessed by time."
Before initiating a new artwork, Monir contemplates on it in terms of composition and colour. "Every work has its balance. So, I try to set the balance right first. And this you cannot do, at least I can't, without first drawing out the composition. Then you have to think about space, lines and colours. It's like a structural allegory that enrols my expectations."
He added, "Sometimes I don't seem to understand what I'm doing. It's very difficult for an artist to explain his works to others. If he could do so, he would be an orator or a writer or a critic. Besides, I do not find it is necessary at all. When an art lover enjoys an artwork, his/her subconscious mind finds an explanation of the piece. It's not necessary for an artist to explain or define his/her work. When we discover a piece of sculpture, 3000 years old, do we look around for the sculptor to explain his/her work?"
Asked which artists' works made profound impact on him, Monir said that as a student he always admired Zainul Abedin's sketches, Quamrul Hassan drawings and Mostafa Monwar's works. He also admires works of John Miro, Mattise, Rembrandt and Velasquez.
Monirul Islam may be regarded by art critics and experts as having been most influential in the '60s, but in effect he has continued to exercise a profound sway not only over art in this region but also the contemporary global scene in general. Every year Monirul Islam gets invitations to lecture at many renowned universities, including Madrid University of Fine Arts and Fonde Todes, which is the birthplace of the famous Spanish artist Francisco Goya. The artist is now in Dhaka for his upcoming exposition at Bengal Gallery.