Manekshaw's contribution to liberation war recalled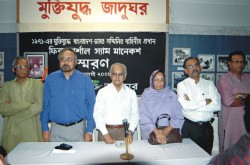 Speakers at a memorial for Field Marshal Sam Manekshaw yesterday paid rich tributes to the former chief of Indian army and said his contribution to the liberation war of Bangladesh cannot be forgotten.
The country wins freedom within a short span of time for his outstanding war strategy, they added.
They said this at a discussion on Manekshaw who led the Bangladesh-India Joint Forces during the liberation war in 1971.
Liberation War Museum organised the memorial discussion at its auditorium in the city where the speakers recalled the leading role Manekshaw played in achieving the country's independence.
Addressing as the chief guest, deputy chief of the liberation war Air Vice Marshal (retd) AK Khandker termed Manekshaw as a highly qualified, intelligent and smart military official.
"We won our independence for his excellent war strategy," said AK Khandker, also president of the Sector Commanders' Forum.
Maj (retd) ASM Shamsul Arefin said it would reflect our smallness if we do not express our gratitude to those Indians who sacrificed their lives and helped us during the liberation war in 1971.
Manekshaw was a humble man and had never asked for any credit for his role during the war, he added.
Liberation War Museum Trustee Aly Zaker said liberation war of Bangladesh and Manekshaw's name are related with one another.
Field Marshal Manekshaw was respectful to democratic norms though he was the supreme commander of the Bangladesh-India Joint Forces, he added.
Dr Sarwar Ali, another trustee of the museum, said it is unfortunate that we did not recognise the role of the joint forces during our liberation war.
Freedom fighters Habibul Alam and Momtaz Begum also spoke at the discussion.
In another memorial discussion, Bangladesh Muktijoddha Ainjibi Parishad proposed that government should name three roads of the country, honouring Indira Gandhi, the then prime minister of India, Field Marshal Manekshaw and General Jagjit Singh Arora who played a leading role in achieving our freedom.