Debapriya presents credentials to Pope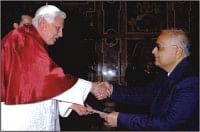 Bangladesh Ambassador to the UN Offices in Geneva Dr Debapriya Bhattacharya yesterday presented his credentials to Pope Benedict XVI as concurrent envoy to the Vatican.
The Pope welcomed the ambassador to the Vatican and wished him a successful tenure of office and inquired about the welfare of the people of Bangladesh as Debapriya conveyed him the greetings and best wishes of the government of Bangladesh and its people and also invited him to visit the country at a suitable date.
According to the practice of the Holy See, the ambassador offered the Pope a written statement saying Bangladesh is recognised for its tradition of religious freedom and communal harmony. "Bangladesh is known for its rich cultural and spiritual civilisation. It is also known for its tradition for religious tolerance."
Describing the Catholics in Bangladesh as a highly motivated and integral community, he highlighted the important role played by them in the nation's social, economic and cultural life.
The ambassador also apprised the Pope of the present state of governance in the country, explaining the ongoing initiatives to stage a participatory and credible election by the end of this year.