DSE turnover hits all-time high at Tk494.1cr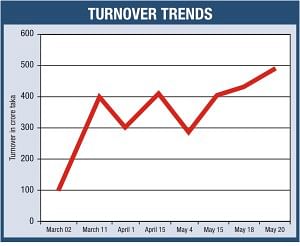 Turnover on the Dhaka Stock Exchange (DSE) yesterday hit all-time high at Tk494.1 crore, an evidence of the overheated market.
On Sunday the turnover also hit record Tk417 crore.
Experts said prices of shares in mutual funds, insurance companies and non-banking financial institutions (NBFIs) are abnormally high that do not match with their fundamentals.
The market has become risky for investment, the experts warned urging retail investors to be very cautious while investing in securities.
However, some of the experts said dearth of supply of new securities prompted many retail investors to offer high prices.
"It's an overheated market. The prices of mutual funds are beyond their fundamentals and I am worried to see the high prices," said Yawer Sayeed, managing director and chief executive officer of AIMS of Bangladesh.
He said another concern is that the recent trend shows the indices remain at a certain level, moving up or going down slightly. "But, how long it will sustain in this stage when it will see a big correction," he said.
Individuals are outshining institutional investors, which is a bad sign for the market, he said, adding that the institutional investors are key market players for a sound stock market.
According to the DSE, the individuals' participation was around 90 percent yesterday.
Referring to the lone public issue of Delta Brac Housing till this year, Sayeed said the market needs more new securities to meet the huge demand for quality shares since investors have enough liquidity in their hands.
DSE Chief Executive Officer Salahuddin Ahmed Khan said it has become very risky to invest in shares in mutual funds, insurance companies and NBFIs due to their over pricing.
"We will once again put the companies' basic fundamentals such as net asset value, earning per share, profit/loss and price earning ratio on the DSE website so that the investors can analyse the facts and figures before investing," he said.
The indices, however, were flat yesterday. The DSE General Index marginally fell by 1.1 points, or 0.03 percent, to 3054.63 points, while the DSE All Share Price Index slightly rose by 1.6 points, or 0.06 percent, to 2593.13 points.
A total of 3,23,21,672 shares changed hands. Of the issues traded, 130 advance and 100 declined with six unchanged.
On the Chittagong Stock Exchange (CSE), the indices fell with the gainers dominating the losers. The CSE Selective Categories Index declined by 0.7 percent to 5531.58 points, while the CSE All Share Price Index fell by 0.54 percent to 8613.73 points.
A total of 48,45,574 shares worth Tk59.09 crore changed hands. Of the issues traded, 78 advanced and 72 declined with three unchanged.