Lest we forget
Shahidul Zahir: An exceptional public servant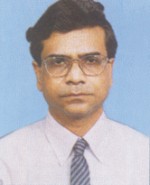 SHAHIDUL Haque (who used the pseudonym, Shahidul Zahir), Secretary-in-Charge, Hill Tracts Affairs, passed away last March 23 at the age of 55, due to a cardiac arrest.
Shahid worked as a deputy director at BPATC, Savar. Meek and unassuming, he used to discourse for long on politics, administration, literature and societal issues without citing a word about his literary achievements.
An introvert, Shahid sought to communicate with the people through his prolific pen. Coming from political science, he had an inbred leaning towards literature, particularly short stories and novels, through which he exposed what he witnessed and experienced. Much of his private time was devoted to reading and writing. Novels were his singular source of inspiration, entertainment and perhaps of learning. His major writings include Parapar, Dolu Nadir Hawa, Jiban O Rajnaitik Bastabota, Shey Rate Purnima Chilo, and Mukher Dike` Dekhi. The style he pursued was innovative and non-conventional.
There was no conflict between literature and bureaucracy in him. He rather catalysed a happy marriage between these two odd partners. He never let his love for literature influence his official tasks. Our batch-mate, Kazi Aminul Islam, Secretary to the Hon'ble Chief Adviser, describes him as "an impeccable personality."
As a supervisor, he was humane and friendly, but firm in task accomplishment; as a supervisee, he was shock absorbing and supportive. Shamima Nargis, a deputy secretary, who worked under him at ERD remarks: "He was so meticulous! Only a person working under him could discover that."
He had a genuine concern for the downtrodden people. He envisioned a civil service that would be de-politicised, meritocratic, pro-people and pro-poor. He envisioned a public administration that would help to install good governance.
He used to practise the virtue of humility; arrogance he despised most. To him, follies were human, arrogance was satanic and modesty was angelic. He believed that arrogance stemmed from real ignorance. In an environment where malice, bias, prejudice and insolence permeate, Shahid exemplified the values of integrity, frugality, co-operation, and compassion for others.
Concern for work and concern for employees made Shahid a role model. An altruistic civil servant, he never squandered public resources for personal comfort; austerity and financial propriety were his forte. Practices like changing furniture, window-screens, altering crockery, fixing costly rest-room fittings by spending public money were unknown to him. His last home telephone bill amounted, incredibly, to Tk.95.
Thomas Browne, an English theologian, said in a mystical vein: "The first day of our jubilee is death." Shahid is now perhaps rejoicing at the celebration of that jubilee. As I cast my last glance at his But my thoughts were at once interrupted by the deathless poetic lines of Theodore Roethke:
"I wake to sleep, and take my waking slow,
I learn by going when I have to go."
These lines perhaps fit best as an epitaph for Shahid.
Dr. Syed Naquib Muslim is acting Chairman, Bangladesh Tariff Commission.