Clashes continue
5 more killed as Jamaat, Shibir stay violent; toll rises to 47; train in Rajshahi torched; BNP runs amok in Dhaka ahead of hartal today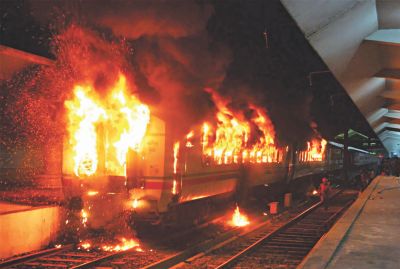 Jamaat-Shibir activists continued their rampage and clashed with law enforcers in the capital and other parts of the country yesterday, leaving five people dead and at least 150 others, including 10 policemen, wounded.
Besides, two persons wounded in previous clashes succumbed to their injuries yesterday.
In the capital, BNP activists with Jamaat-Shibir men torched four vehicles and vandalised more than 100 vehicles.
Since the International Crimes Tribunal-1 had awarded Jamaat Nayeb-e-Ameer Delawar Hossain Sayedee the capital punishment on Thursday, a total of 47 persons were killed until yesterday in the clashes between Islamic fanatics and law enforcers.
In Chittagong, three people, including a teenaged boy, were killed and 30 others injured in a gunfight between Jamaat-Shibir men and police at Satkania upazila yesterday.
The deceased have been identified as Abu Taher, 30, son of Abdus Sukkur; Shaidul Islam, 15, son of Abu Taher; and Md Osman, 27, son of Abu Sayed. All of them were from Chhodaha union of the upazila and supporters of Jamaat-e-Islami and Islamic Chhatra Shibir, said Satkania upazila chairman Moshad Hossain.
The injured in the clash had been admitted to clinics in Satkania and Chittagong city, said police and locals, adding that the four-hour-long clash that started around 10:00am in Hasmater Dokan area had created widespread panic among people.
Officer-in-Charge (OC) Md Shajahan of Satkania Police Station said the Jamat-Shibir men had blocked the Chittagong-Cox's Bazar highway from Kerani Haat to Chhodaha areas [approximately a stretch of 1.5 kilometres] with trees and logs around 7:00am. This triggered a long tailback on the highway.
On information, police and members of Rapid Action Battalion rushed to the spot and charged batons to disperse the activists, who at that time had started to vandalise vehicles.
In the face of resistance the Jamaat-Shibir men at first hurled brick chips and then homemade bombs at law enforcers. At this, the law enforcers retaliated with bullets. The activists also returned gunshots.
In Napora Bazar area of Banshkhali, clashes erupted when Jamaat-Shibir men, numbering about 1,000, attacked an anti-hartal Awami League rally.
The upazila nirbahi officer of Banshkhali sustained injury in the leg during the clash. The Jamaat Shibir men then went on the rampage by vandalising shops and other public property.
Jamaat-Shibir men also set two city service buses on fire in the port city's Alanker intersection around 8:00pm.
Additional deputy commissioner Arefin Jewel of Chittagong Metropolitan Police (West) confirmed the incident and said police forces and firefighters had been sent to bring the situation under control.
NILPHAMARI
One person was killed and 25 others were injured as Jamaat-Shibir adherents brought out a procession and vandalised several shops defying Section 144 in Jaldhaka upazila yesterday afternoon.
Police and members of Border Guard Bangladesh (BGB) opened fire to disperse the activists, leaving Atiqul Islam, 15, dead on the spot.
SYLHET
Miscreants fatally stabbed an activist of Jubo League, pro-Awami League youth wing, near Tapobon residential area in the city last night.
Victim Jogot Jyoti Talukder died at Osmani Medical College Hospital (OMCH) around 10:40pm, said Deputy Director of the hospital Ehtesham-ul Haque Chowdhury.
Earlier in the afternoon, around 200 activists of Jamaat and Shibir vandalised at least 20 motorcycles and 50 shops in Dargah Gate, Dorshon Deuri, Ambarkhana and Shahi eidgah areas.
Eyewitnesses said a group of 10 activists of Chhatra League, pro-Awami League student body, wearing helmets had stormed into the showroom of Bashundhara Motors, owned by a Jamaat adherent, around 2:30pm. They set eight motorbikes inside the showroom and some five others in front of it afire.
Firefighters brought the fire under control.
On information, Jamaat-Shibir men, who were preparing for a procession nearby, rushed to the showroom and beat up two Chhatra League men before torching their motorbikes.
The injured Chhatra League activists had been sent to OMCH, said police.
The Jamaat-Shibir activists then vandalised 10 more motorcycles, two battery-run-three-wheelers and 30 shops on the street and locked in a clash with law enforcers in Ambarkhana area, said witnesses, adding that the activists at the time pelted the law enforcers with brick chips.
The activists also hurled brick chips at Scholarshome, an institution run on AL lawmaker Hafiz Mazumder's education trust in Shahi eidgah area.
OC Ataur Rahman of Kotwali Police Station said the Jamaat-Shibir men had vandalised more than 20 motorcycles and other vehicles and property on the busy road from Dargah Gate to Ambarkhana area.
Police chased away the activists, the OC said, adding that they were preparing to file a case in this connection.
Deputy Commissioner Rezaul Karim of Sylhet Metropolitan Police (SMP) told The Daily Star that the situation had been brought under control. Additional contingents of Police and BGB had been deployed there.
RANGPUR
A Shibir activist, who had been injured in a clash during Jamaat-enforced dawn-to-dusk hartal on Thursday, succumbed to his injury at Rangpur Medical College Hospital yesterday afternoon.
The deceased, identified as Akmal Hossain, 14, was son of Mosharraf Hossain of Gangini village under Pirgachha upazila in the district.
In the afternoon, Awami League and its associated bodies staged demonstration protesting countrywide mayhem by Jamaat and Shibir.
Later they brought out a procession and marched the city roads. During the time they attacked and vandalised the Pirgachha unit Jamaat office in Karbala area.
In retaliation, BNP and other organisations of the town brought out a procession and held a rally protesting the countrywide "killing" by the government.
A tense situation is prevailing in the upazila town.
OC Bazlur Rashid of Pirgachha Police Station said a good number of police have been deployed in the town to avert further untoward situation.
NOAKHALI
A pedestrian who sustained bullet injury on Friday, during a Jamaat-Shibir clash with police in Sonaimuri upazila of the district, succumbed to his injury on the way to Dhaka Medical College Hospital yesterday afternoon.
The deceased was identified as Korban Ali, 28.
Meanwhile, police have so far detained 16 people from different areas of the districts in connection with the violence.
BAGERHAT
At least 50 people including eight policemen were injured after Jamaat-Shibir activists clashed with law enforcers at Katakhali intersection under Fakirhat upazila of the district yesterday evening.
The clash erupted around 5:00pm when police tried to disperse Jamaat-Shibir men, who ignoring Section 144 had put up barricades on Mongla-Bagerhat highway.
The activists also kept Upazila Nirbahi Officer Deb Prasad Paul confined to a petrol pump for three hours. He was rescued after additional police had been deployed from Bagerhat.
KHULNA
At least 40 people including two police personnel were injured as BNP and Jamaat-Shibir men clashed with police in the city yesterday afternoon.
The agitators also vandalised vehicles and business establishments, and blasted homemade bombs. Law enforcers used bullets and teargas canisters to disperse the activists. Chases and counter chases took place during the time.
The activists vandalised five establishments on Khulna-Jessore highway and torched two private cars and several auto-rickshaws in Dakbanglow area.
BNP men swooped on police when they brought out a procession from their KD Ghosh Road party office following a rally. Chased by law enforcers they escaped through narrow lanes and committed vandalism there.
Meanwhile, police charged truncheons and used 30 rubber bullets and 15 canisters of teargas, as Jamaat-Shibir men hurled homemade bombs and brick chips at police in front of Tabligue mosque in Nirala area around 5:30pm, said OC Quamruzzaman of Sonadanga Police Station.
During the clash, Jamaat-Shibir men stabbed two police constables -- Nuruzzaman and Shafiqul Islam. The injured had to undergo surgery at Khulna Medical College Hospital, said the OC.
Saidur Rahman, president of Khulna city unit Shibir, claimed that at least 20 Jamaat-Shibir activists had sustained injuries in police firing.
RAJSHAHI
A video cameraman of a private TV channel was bullet hit during a gunfight between law enforcers and Jamaat-Shibir men yesterday afternoon.
The clash began around 12:30pm, when around a hundred Jamaat-Shibir men brought out a brisk procession at Aloka intersection and vandalised Rajshahi Chamber and Commerce and the main branch of Dutch Bangla Bank in the district.
As law enforcers fired several rubber bullets and teargas shells to disperse them, the activists hurled homemade bombs and brick chips at the law enforcers. At the time the Jamaat-Shibir men also retaliate with bullets.
Around 10:10pm, an unidentified group of people torched the last three coaches of Silkcity train at Rajshahi Railway Station. The train had just reached the station from Dhaka.
When journalists thronged the stations for news, the attackers charged bombs at them at the platform gate.
Firefighters soon reached the station and separated the three burning coaches from the main train and doused the fire.
Police brought the situation under control.
PIROJPUR
Jamaat-Shibir men vandalised the Awami League office at Jamaat leader Sayedee's birthplace in Zianagar upazila yesterday morning.
Witnesses said a procession of around 150 Jamaat-Shibir activists vandalised the AL office on its way at Jamadder Bazar to the Kalaron ferry terminal demanding release of Sayedee.
Infuriated with the act, around 50 activists of AL equipped with sticks and sharp weapons swooped on a club run by BNP adherents. During the time the AL agitators injured BNP activist Faisal.
The injured was rushed to Morelganj Hospital in Bagerhat district in assistance with police.
None has been arrested so far in this connection.
BARISAL
Police have lodged a case against 300 Jamaat-Shibir men in Uzirpur upazila Friday morning.
Sub-Inspector Lutfar Rahman of Uzirpur Police Station filed the case naming 13 Jamaat-Shibir leaders and activists.
DINAJPUR
Jamaat-Shibir activists yesterday blocked the Joypurhat-Bogra highway for three hours with logs, electric pole and burning tyres halting traffic movement on the highway.
Police said the activists blocked the highway from Joypurhat bus terminal to Hitchmi Bazar under Joypurhat sadar upazila from 6:00am to 9:00am.
OC Abdur Rashid of Joypurhat Sadar Police Station said it had taken two hours to free the highway and restore communication.