Stop attacks on media
Journalist leaders deplore desecration of national flag, Shaheed Minars, demand punishment to fanatics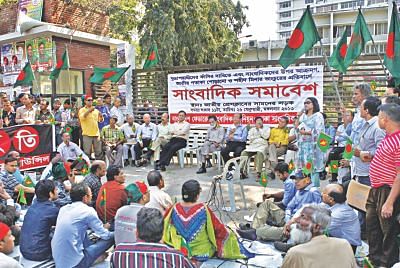 Condemning the recent attacks on newsmen and desecration of the national flag and Shaheed Minars by religious fanatics, journalist leaders yesterday demanded exemplary punishment to the attackers.
"If there is any further attack on journalists and media from the defeated forces of 1971, they [attackers] will be resisted with full strength," Iqbal Sobhan Chowdhury, president of a faction of Bangladesh Federal Union of Journalists (BFUJ), told a rally before the Jatiya Press Club.
The BFUJ and Dhaka Union of Journalists (DUJ) jointly organised the rally protesting the attacks and demanding death penalty for all war criminals.
Expressing solidarity with the Shahbagh movement, Abdul Jalil Bhuiyan, secretary general of BFUJ, said journalists did not sit back during the Liberation War and this time also they would not.
Former BFUJ president Manzurul Ahsan Bulbul said though the newsmen are neutral, they will be biased towards the country in the event of desecration of the national flag and Shaheed Minars.
Journalists at the rally observed a minute's silence to pay tributes to the newsmen who sacrificed their lives during the Liberation War.
They also condemned the propaganda against the Shahbagh movement and criticised the acting editor of a Bangla daily for instigating religious strife.
Iqbal Sobhan Chowdhury said a mural of Bangabandhu Sheikh Mujibur Rahman will be unveiled at the Jatiya Press Club on March 26.
He urged all journalists, who believe in the spirit of Liberation War, to join the programme at 11:00am on that day.
Several hundred newsmen from different media houses joined the rally yesterday. Leaders of Dhaka Reporters Unity, Crime Reporters Association of Bangladesh and Dhaka Sub-Editors Council were present.
Thousands of youths started a non-stop demonstration at the Shahbagh roundabout in the capital on February 5, hours after the International Crimes Tribunal-2 awarded life sentence to Jamaat Assistant Secretary General Abdul Quader Mollah for committing crimes against humanity during the Liberation War.
On Friday, Jamaat-e-Islami and its sympathisers attacked journalists and law enforcers, burned the national flag and damaged several Shaheed Minars across the country to counter the mass demand for capital punishment to 1971 war criminals.