<i>Padma Shri for Jharna</i>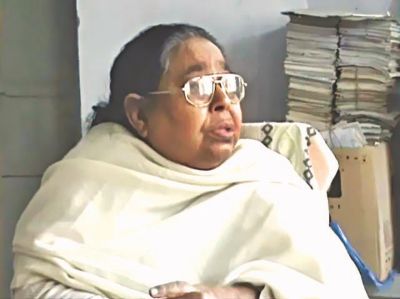 Noted Bangladeshi social worker and Gandhian Jharna Dhara Chowdhury has been chosen for Padma Shri, one of India's highest civilian awards.
The award is recognition of Jharna's long-standing, selfless service to the people of Bangladesh, in particular those of Noakhali, Indian high commission in Dhaka said in a statement yesterday.
"It is an honour to the womenfolk and will encourage women to dedicate themselves to social work," 74-year-old Jharna, secretary of Gandhi Ashram at Sonaimuri in Noakhali, told our correspondent in the district.
On Friday night, on the eve of India's 64th Republic Day, New Delhi announced her name as one among the six foreigners who would get this year's Padma Shri awards in different fields.
Indian home secretary called her on Friday morning to inform her about his government's decision as well as to seek her consent.
"I will receive the award if it brings development to the ashram," she told the Indian official over the phone.
Padma Shri along with Padma Vibhusan and Padma Bhusan awards are given every year to recognise exceptional contribution in various disciplines and fields of activities.
Jharna is possibly the first Bangladeshi citizen to be given the Padma award, said the Indian high commission's press release.
The award-giving ceremony is held at the Rashtrapati Bhavan in New Delhi in March/April, in which awards are handed by the Indian president.
Bollywood actors Sharmila Tagore, Sridevi, late Rajesh Khanna and director Ramesh Sippy, credited with making a number of blockbusters, including "Sholay", have also been picked for this year's Padma Shri in the category of films.
BBC reports: Jharna was eight when bloody communal riots between Muslims and Hindus broke out in late 1946 in southern Bangladesh or the then East Bengal.
According to eyewitness accounts, villages were burnt to ashes and hundreds of thousands of people fled their homes.
Over a few weeks, thousands were killed and hundreds of women raped as mobs went on a rampage in the remote Noakhali region.
Media reports described how thousands of minority Hindus were forced to convert to Islam and compelled to dress up like Muslims and eat beef, acts which contravene their religious traditions.
The Noakhali massacre, as it came to be known, took place about a year before the end of British rule in the subcontinent.
'Destruction everywhere'
India and Pakistan were carved out of British India and East Bengal became part of Pakistan.
"Our house was burnt down and many of our relatives were killed. We fled to neighbouring Assam [in India] for safety," Jharna said.
"On my way, I saw death and destruction everywhere," the social worker and eminent peace activist remembered.
The brutality of the riots shocked Indian independence leader Mahatma Gandhi, who rushed to the region and went barefoot around villages for about four months preaching communal harmony and non-violence before the clashes finally came to an end.
The Noakhali Peace Mission set up by Gandhi is considered to be a key event during the Indian independence struggle.
The violence in Noakhali started months after similar massive communal riots in the eastern Indian city of Calcutta. Thousands died in the "Great Calcutta Killings".
"We came back to our village in Noakhali after life returned to normal. But the communal riot left a deep scar on my mind," Jharna affectionately known as Jharna recalls.
"I was deeply touched by Gandhiji's peace message. It influenced me to work for the community and to promote communal harmony."
Overwhelming response
Although she never met Gandhi in person, she said she was touched by his principles of non-violence, self-reliance and community work.
In line with Gandhian values, she thought basic education was vital to lift people out of poverty and to promote better understanding.
At the age of 17, Jharna and her sister started a school in her village for under-privileged children.
Although neither had proper qualifications, it was met with an overwhelming response.
"We had no money to run the school. We used to fast twice a week to save some money. With that money, we bought books and other items," she recounted.
But the school was closed after a few years because the sisters were not qualified. The decision shattered them.
Later, Jharna became a full-time social worker and lived in Dhaka, Chittagong, Comilla and in many other parts of the country. Like many Gandhian followers, she stayed single to focus fully on her work.
After spending many years working in various social organisations, Jharna finally joined the Gandhi Ashram Trust. It was established in the village of Jayag, soon after his visit to Noakhali.
"When Gandhiji left in March 1947, he told some of his disciples to stay back and that he would return. But he was killed a year later," Jharna said.
"His followers, led by Charu Chowdhury, believed that Gandhiji will one day come back in spirit, so they never left this place and continued with their community work until their deaths."
'Much better'
Hemanta Kumar Ghosh, a local landlord, donated his house and about 2,500 acres of land to the charity. The house has a symbolic significance as Gandhi stayed there for a night during his Noakhali peace mission.
When East Bengal became part of Pakistan, Gandhian followers and the charitable trust went through a turbulent period. Most of the land donated to the trust was confiscated and the Gandhians were put in jail on suspicion of spying for India.
But despite various threats from the Pakistani authorities, the disciples refused to leave.
"Four of Gandhiji's disciples were killed by Pakistani soldiers in the same house. After spending many years in jail, Charu Chowdhury was released when Bangladesh became independent in 1971," she recalled.
She says that the ashram has gradually regained its past glory since 1971.
However, after years of court battles, only 25 acres of Gandhi Ashram Trust lands were recovered. A small Gandhi museum has also been set up in the main building.
Soon after the death of Charu Chowdhury in 1990, Jharna took over the responsibility of running the trust.
Today it is working directly with 25,000 poor families, both Muslims and Hindus. It has become a centre for various activities including training programmes for rural women to boost their income, free education for poor children and poverty alleviation schemes.
Jharna also travels around villages in the Noakhali region, working to improve the lives of Dalits, who are at the bottom of the centuries-old Hindu caste system.
The ashram is still working steadfastly to maintain peace and harmony between different communities. But almost 65-years after the bloody riots, has that been achieved in the Noakhali region?
"Things are much better now. There hasn't been any major communal riot here ever since Gandhiji visited this place. His peace mission has left a lasting legacy here in Noakhali," said Jharna proudly.