Sahara Cup 2012Bangladesh vs West Indies
Team first for Tamim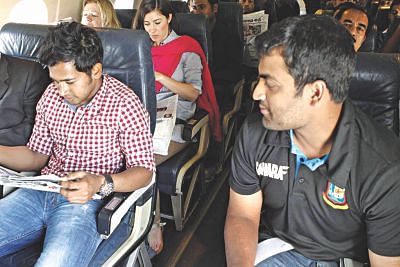 A happy Tigers returned to Dhaka yesterday after stupendous ODI success in Khulna, where they won both one-day matches against visiting West Indies by huge margins; a result not thought even in dreams before the start of the five-match series though they boast a record of winning a series against New Zealand 4-0 previously.
Bangladesh made a brilliant comeback after a 10-wicket defeat in the second and final Test and demonstrated why they are considered a much better unit in the shorter version of the game.
The Tigers are now eyeing greater success. For Mushfiqur Rahim's men the series victory is within reach now. But dashing opener Tamim Iqbal said that it would be better for the team to focus on how they can keep the momentum going and put up better performance in the next three games, scheduled for December 5, 7 and 8 at the Sher-e-Bangla National Stadium in Mirpur, rather than thinking of the series victory.
"Honestly speaking we are in a good position to win the series and we have the chance to do it in Mirpur, but in my opinion we should only think about how we can continue the good show rather than thinking about the result. As a team we are playing good cricket in the series and I believe the result will come automatically if we can continue it," said Tamim yesterday, adding that the team were upbeat after tremendous success in Khulna but nobody was over excited.
It's really refreshing when the opener put emphasis on individual improvements despite comfortable victories in the first two matches.
"I'm sure the players and coaching staff will discuss how we can improve our individual performances before the next three games. It was a brilliant team effort in the first two games, but still I believe we can improve our individual performances. Strength-wise we are not a big side, so it's important everybody contributes but I believe we are on the way to becoming a strong one-day side," said a confident Tamim.
The Chittagonian also believes that people remember individual success only when it makes an impact on team's result, so it's important to focus on team success rather than any individual achievement.
"Without any doubt Anamul [Haque] played a brilliant knock in the second match but people will not remember for long if his maiden hundred did not help the team win the match. I also scored few hundreds, but what people remember is whether the innings played any role in the team's success. So, team must come first," opined the experienced opener.
Tamim said that the condition will be different in Mirpur comparing to Khulna.
"Dew will be a factor as all the three matches will be played under lights. The good thing is that we had played day-night matches here during the Asia Cup, so we know how we have to set our plan. And the most important thing is that you have to play good and positive cricket, no matter whether the condition is in your favour or not," said Tamim.
He also showed full respect to his opponents.
"You should realise that West Indies have some world-class and dangerous players in their side and if you prepare a World XI then you must take three or four players from their side. So, you have to be careful against them," cautioned the opener.