Kala-azar research centre opens in Mymensingh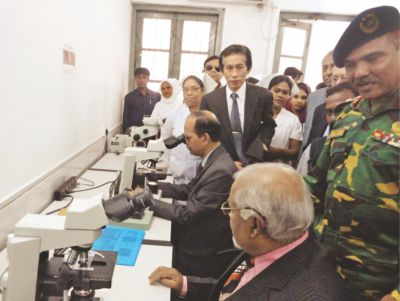 Kala-azar research centre was inaugurated at Surya Kanta Hospital in Mymensingh town yesterday.
Funded by Japan International Cooperation Agency (JICA) and Drugs for Neglected Diseases Initiative (DNDI), the centre will provide free treatment for Kala-Azar patients for the next five years.
State Minister for Health and Family Planning Dr Captain (retd) Mujibur Rahman Fakir opened the 25-bed Kala-azar research centre as chief guest.
Later, a discussion meeting was held at Mymensingh Medical College and Hospital (MMCH) auditorium. Tarun Vij, country director, PATH, India; Sally Ellias, manager, Clinical Trials, DBDI; Dr Abbas Bhuiya, executive director, ICDDR,B; Hiteki Mizuma, director, JST HQ; Dr Thushara Eraj Indranath Fernando, WHO representative in Bangladesh; Vice-Chancellor of Bangladesh Agricultural University Prof Md. Rafiqul Hoque and Mymensingh Zila Parishad Administrator advocate Johirul Haque Khoka took part in the discussion as special guests.
Prof Be-Nazir Ahmed, Director, DC and LD, CDC, DGHS presented a keynote paper on "Kala azar Elimination in Bangladesh by 2015 : A Review" at the meeting.
The minister in his speech said the government is working to eradicate Kala-Azar from the country by 2015 and the centre will help a lot in this regard.
People of Mymensingh district are more vulnerable to Kala-azar disease. As many as 8,800 cases were detected in Phulbaria, Trishal, Gafargaon, Muktagachha and Bhaluka upazilas in the last two years. The situation in Phulbaria is worse as 4403 Kala-azar patients have been found in the upazila.
Salma Akhtar, senior programmer of JICA, said Kala-azar case will be detected at the research centre by examining patient's' urine instead of blood.
The patients will get modern treatment facilities at the center, the official added.