Solar bottle lights for slumdwellers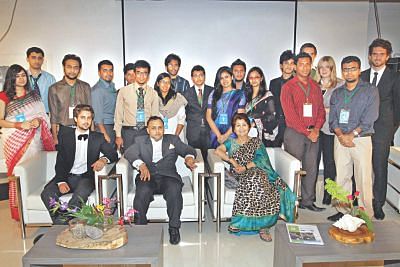 A youth-based organisation, CHANGE, yesterday launched an environment-friendly solar bottle lights to create awareness of renewable energy particularly within slumdwellers.
The solar bottle light was introduced by Sajid Iqbal, president of CHANGE, at the city's Edward M Kennedy Centre.
CHANGE, which works for the development of the environment by involving youth and implementing environment-friendly projects, hopes the initiative would stop the misuse of 275 megawatt of electricity a day in Dhaka's slums alone.
"It is a very simple technology that uses two litres of plastic bottles to refract sun's rays directly into the households," said Iqbal, while adding that solar bottle light was first used in the Philippines.
He said each solar bottle light provides illumination equivalent to a 55 watt electric bulb without any electricity consumption.
"The project will ensure light for all
in the country," said Rokia Afzal Rahman, a former adviser to a caretaker government.
It is a social business which will develop the society as well as the
country, she said, adding that the project will create employment in the country.
"The environment-friendly power will make our life easy," said ASM Mainuddin Monem, deputy managing director of Abdul Monem Group.
Monem said youth can make the world better for everyone.
He suggested the youth take inspiration from Barack Obama, the newly re-elected president of the United States of America.