<i>In memory of a victim of police notoriety</i>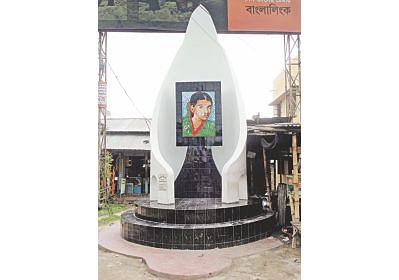 A memorial to Yasmin Akhter, who was raped and killed by cops in Dinajpur on August 24, 1995, was built in July this year at Doshmile intersection on Dinajpur-Dhaka highway.
Lawmaker Iqbalur Rahim of Dinajpur-3 constituency inaugurated the memorial on August 8.
Yasmin, a 14-year-old girl of Golapbagh area in Dinajpur town, had been working as a domestic help in the capital. On her way back home in the town, she got down at Dashmile intersection from a Panchagarh-bound bus in the early hours of August 24, 1995.
As Yasmin was waiting for a Dinajpur-bound bus, a police team on-patrol duty picked her up in their van on false pretext of giving her a lift to her mother's house. They later raped and killed her and dumped the body by the roadside.
The incident sparked widespread condemnation and protest. Dinajpur townspeople staged demonstration demanding arrest and exemplary punishment of the culprits.
In the face of agitation by locals, the district administration imposed a curfew in the town on August 27, 1995. As thousands of people came to the streets violating the curfew, police opened fire on the protesters. Seven people were killed in police firing.
The Women and Children Repression Prevention Tribunal of Rangpur awarded death penalty to three policemen who were executed in 2004.
Women's rights activists said public protests ignited by Yasmin's rape and murder made her a symbol of violence against women. Women's movement in reaction to Yasmin's murder also became a means of social resistance to such violence, they added.
Sharifa Begum, mother of Yasmin, has urged the government to take steps to stop such violence against women and children across the country.