Pandit Birju Maharaj Young at 74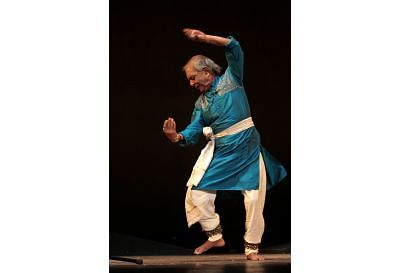 Pandit Birju Maharaj -- eminent Kathak dancer, poet and orator -- had mastered his skills in the art, guided by his father Shri Achhan Maharaj and his uncles Lachhu Maharaj and Shambhu Maharaj. His skills have been appreciated and valued all over the world, giving him a permanent place in their hearts. The artiste believed in enlightening others with his skills and hence took up teaching at many of the renowned institutions -- Sangeet Bharati, Bharatiya Kala Kendra and the Kathak Kendra, eventually founding his own academy, Kalashram.
He has been honoured with various awards including the Padma Vibhushan, Kalidas Samman, Lata Mangeshkar Puraskaar and an honorary Doctorate degree. Having been invited by Shibli Mohammad, his first Bangladeshi student, Pandit Birju Maharaj recently came to Dhaka where he conducted a workshop -- hosted by Nrityanchal -- at the Bangladesh Shilpakala Academy.
During his stay in Dhaka, I had the opportunity to meet Maharaj. Pandit Maharaj arrived two and half hours after the designated time. Initially the delay had caused some annoyance. However, a wait since the morning had to be fruitful and neither did I want to miss the opportunity of meeting a legend. The very presence of Pandit Maharaj, in his humble and simple demeanour, moved me and the other newspaper representatives who had been waiting with me. In no time the maestro won us over and talked about his life. Here's Panditji in his own words:
Early years
I had gone through hardships early in my life. I started dancing at the age of seven and had lost my father when I was nine. The responsibilities of my family fell on my shoulders and I took up Kathak professionally. My mother used to tell me, "No matter where you are, even if you have reached the zenith of success, never stop your practice (reyaaz), as this is what your father wanted you to do everyday."
I do acknowledge myself to be very fortunate to have overcome the ordeals and attain an honourable stature today.
Maharaj on his disciple Shibli
I believe Bangladesh to be a stronghold for Kathak, after Kolkata and Delhi. I am proud to see Shibli instil the skills, I taught him, in his students. As a teacher, this is in fact an achievement for myself and I hope and pray that Shibli continues creating many more great and skilful Kathak dancers in Bangladesh.
Maharaj on Madhuri Dixit
Though my uncle Shri Lachchu Maharaj had always been a professional dance director for films, for me this is a recreational activity that amuses me -- kind of like picnic. This is a break for me, which I enjoy greatly. Among all the actresses whose dances were directed by me, in my view, Madhuri Dixit is the best. Madhuri is a trained, professional Kathak dancer. However, it is her dedication and devotion to perfect her moves that make her follow with aptitude the mudra (stances) she is taught. She follows directions religiously and performs with immaculate bhaw (expressions). I have worked with her in two movies -- "Dil to Pagal Hai" and "Devdas". I recall, while filming "Devdas", she had made a shot of dancing which was approved by the director Sanjay Leela Bhansali and myself. But after watching her own performance on the monitor, she told me, "Guruji, this does not look quite like what you have taught. If you would kindly allow me, I would like to redo this." She perfected that shot.
Maharaj on Satyajit Ray
I had heard his name before and known him to be a great person. I had seen his movies. I experienced his greatness firsthand when I was approached by him to work for one of his movies. I worked with him on "Shatranj Ke Khiladi" as a dance director and got an essence of his enriched knowledge when he came up to me, asking me to direct a pure classical Kathak piece, and not "filmy classical" moves. What has to be knowledgeable to know and judge the difference. We used to devour the famed mishti doi of Kolkata on the sets and it was a memorable experience.
Maharaj and his Kalashram
Kalashram is the realised dream of mine where I have created a very rural atmosphere. I want my students to stick to the originality of the tradition. Other than Kathak, the institution also has departments for painting, yoga, vocal and instrumental music, drama, stage crafts etc. Young dancers are feeling brave enough to take up Kathak as a profession. One must learn to love the dance, and not just sweat over it. I aim to create students who believe in simplicity and humbleness more than the lure of monetary gain.
The writer is editor In charge, Star Insight.