New credit card of StanChart to offer travel privileges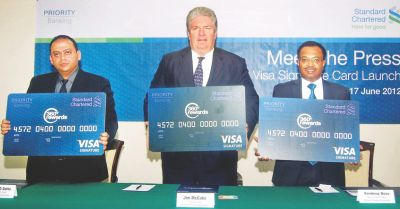 Standard Chartered Bank yesterday launched a new type of credit card -- Visa Signature Card -- to offer a host of superior travel and lifestyle benefits for the top-end consumers of Bangladesh.
The card will mainly focus on providing attractive and exclusive travel, dining and lodging privileges, both locally and globally.
Jim McCabe, the bank's chief executive for Bangladesh, unveiled the new product at a press conference at Sonargaon Hotel in Dhaka.
The bank has tied up with Singapore Airlines to offer some benefits to the cardholders -- a consumer will get 50 percent discount for the second ticket purchased from the airline and 25 percent for every ticket from the third one onwards.
The bank also partnered with more than 100 hotels and restaurants to offer its cardholders exclusive discounts and privileges.
The cardholders can access more than 600 VIP airport lounges across the world free of cost and enjoy warm welcome at some of the world's most prestigious hotels and restaurants with attractive dining deals.
The cardholders will also get 10 percent cash back on dining locally and globally and enjoy discounts at local and international golf clubs.
"This is an exciting moment for us. We had the privilege of launching the first credit card in Bangladesh and are proud to be the market leader in the credit card industry." said McCabe.
"We believe the Visa Signature Card will immensely help us meet the ever-growing demands of our customers," he added.
The London-based bank sees Bangladesh as a strong market due to its higher economic growth.
"The emerging affluent segment is growing rapidly in Bangladesh. But their needs are largely under-served and undifferentiated in the country," said Sandeep Bose, head of consumer banking for Bangladesh, Nepal and Sri Lanka for the bank.
He said this new card will meet the distinctive needs of the affluent segment.
A customer with a monthly income of more than Tk 1.5 lakh will be eligible to get Visa Signature Card with an annual subscription fee of Tk 10,000.
"We firmly believe the Visa Signature Card stands tall above every other card that our customers have experienced till now," said Gitanka D Datta, head of cards for the bank.
He said the bank will charge lower interest rates compared to the existing Visa cards and expects to issue 3,000 such cards within a year.
"It will charge 2 percent interest a month, which is 20 percent lower than the existing rate," said Datta.
Also as a sign-on gift, every new cardholder will receive a complimentary stay of two nights and three days for two persons at Ocean Paradise Hotel in Cox's Bazar.
The bank already has six different credit cards in Bangladesh -- Platinum, Gold, Silver, Cricket, Picture and International.