Titas graft suspects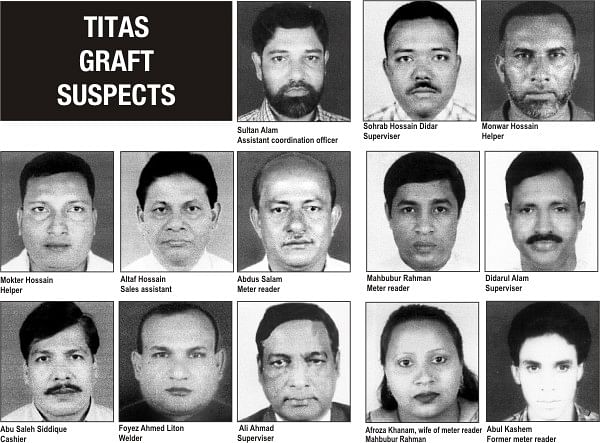 A taskforce of the National Coordination Committee to Combat Corruption and Serious Crimes has sent the documents of ill-gotten gains of 68 former and present employees of Titas Gas Transmission and Distribution Co. Ltd. to the Anti-Corruption Commission (ACC).
Fifteen of the corrupt suspects were among 136 employees who had earlier pledged to refund their wealth obtained through illegal means. These 15 employees did not fulfil their commitment.
The documents of wealth of the remaining 53 employees, out of 68, were sent to the ACC as they did not confess to corruption.
The 15 staffs are assistant coordination officer Sultan Alam, former meter readers Abul Kashem, Abdus Salam and Mahbubur Rahman, helpers Mokter Hossain and Monwar Hossain, sales assistant Altaf Hossain, technician Habibur Rahman, cashier Abu Saleh Siddique, welder Foyez Ahmed Liton, supervisers Abu Taleb, Sohrab Hossain Didar, Ali Ahmad and Didarul Alam and junior technician Monir Hossain Shahin.
The other 53 staffs are general managers Kawsar Azizur Rahman, Amir Ahmed, Khurshidul Hasan and engineer M Manjurul Huq, managers Aminul Huq and Rana Akbar Haidari, deputy managers Shafiqul Islam and Nazrul Islam, assistant manager Md Jahangir, manager M Sayef Ullah, deputy managers AKM Nurul Islam, Rezaul Huq and Helal Uddun Talukder, managers Fakhrul Islam and GKM Nazrul Islam, deputy manager Abdul Mukit, assistant engineer BM Torab Hossain, deputy assistant engineer Nizam Uddin, DGM Olifa Akhter, assistant engineers Moshiur Rahman, Nazrul Islam, Ali Ahmed, Siddiqur Rahman, and Abdur Razzak, assistant managers Nazrul Islam and ABM Mizanur Rahman, deputy managers Kazi Andalib Hasan, Maksudur Rahim, Kazi Anwarul Azim, Farid Uddin, Mafizul Islam, Oliar Rahman Talukder, Madhab Chandra Biswas, Suzat Ali and Abul Bashar, director Maj (retd) Moktadir Ali, assistant engineer Moklesur Rahman Bhuiyan, deputy manager SM Mahfuzul Huq, managing director AQM Selim, deputy managing director Khalekuzzaman Faruk, assistant coordination officer Sultan Alam, deputy manager Osman Goni, superviser Israfil Alam, meter reader Azizul Huq Mandal, superviser Abdul Baten, former sales assistant Kadir Mollah, assistant accountants Faruq Hassan and Md Shahjahan, assistant cashiers Mosharraf Hossain and Shamsul Huq, sales assistant Zillur Rahman and assistant superviser Hedayetul Islam.