Britain destroyed records of colonial crimes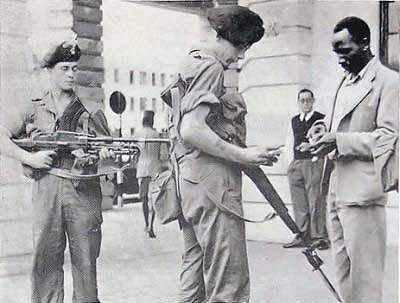 Thousands of documents detailing some of the most shameful acts and crimes committed during the final years of the British empire were systematically destroyed to prevent them falling into the hands of post-independence governments, an official review has concluded.
Those papers that survived the purge were flown discreetly to Britain where they were hidden for 50 years in a secret foreign office archive, beyond the reach of historians and members of the public, and in breach of legal obligations for them to be transferred into the public domain.
The archive came to light last year when a group of Kenyans detained and allegedly tortured during the Mau Mau rebellion won the right to sue the British government. The foreign office promised to release the 8,800 files from 37 former colonies held at the highly secure government communications centre at Hanslope Park in Buckinghamshire.
The foreign office says it is now releasing "every paper" it can.
But academics say the Foreign Office's "failure" to deliver the archive for decades has created a "legacy of suspicion".
In particular, the first batch of papers reveals: Official fears that Nazis - pretending to catch butterflies - were plotting to invade East Africa in 1938; Secret plans to deport a Greek Cypriot leader to the Seychelles despite launching talks with him to end a violent rebellion in Cyprus in 1955; Concerns over the "anti-American and anti-white" tendency of Kenyan students sent to study in the US in 1959 - the same year Barack Obama's Kenyan father enrolled at university in Hawaii.
The papers at Hanslope Park include monthly intelligence reports on the "elimination" of the colonial authority's enemies in 1950s Malaya; records showing ministers in London were aware of the torture and murder of Mau Mau insurgents in Kenya, including a case of a man said to have been "roasted alive"; and papers detailing the lengths to which the UK went to forcibly remove islanders from Diego Garcia in the Indian Ocean.
Among the documents that appear to have been destroyed were: records of the abuse of Mau Mau insurgents detained by British colonial authorities, who were tortured and sometimes murdered; reports that may have detailed the alleged massacre of 24 unarmed villagers in Malaya by soldiers of the Scots Guards in 1948; most of the sensitive documents kept by colonial authorities in Aden, where the army's Intelligence Corps operated a secret torture centre for several years in the 1960s; and every sensitive document kept by the authorities in British Guiana, a colony whose policies were heavily influenced by successive US governments and whose post-independence leader was toppled in a coup orchestrated by the CIA.
The archive contains official documents from the former territories of Aden, Anguilla, Bahamas, Basutoland (Lesotho), Botswana, British Indian Ocean Territories, Brunei, Cyprus, Kenya, Malaya, Sarawak and the Seychelles.