Protidhwani launched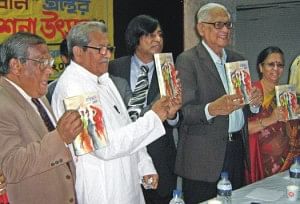 Speakers at a programme yesterday said Bangladesh will not remain entangled in crisis if its people love the country from their respective positions.
The programme was organised at the National Press Club in the capital yesterday to unveil the cover of a book titled 'Protidhwani' (Echo), published by Ananya and written by Harun Chowdhury, a Bangladeshi expatriate in the USA.
Prof Dr Anisuzzaman, who presided over the programme, unveiled the cover.
The speakers said Bangladesh is experiencing a crisis of good writers and books worth reading.
As a result, the readers are buying books considering the name instead of their contents, they added.
"If all people love the country, Bangladesh would definitely come out of various crises facing the nation," said Advocate Sultana Kamal, former adviser of the caretaker government.
"We value logic when we consider things from individual aspects, but we become illogical when we thing collectively," said another former adviser of the caretaker government Akbar Ali Khan.
The speakers said the book is praiseworthy as it presents thought of a Bangladeshi expatriate.
"The thought of an expatriate for his motherland has found its readable expression in this book," said Shamokal Editor Abed Khan, adding, "Now-a- days a good piece of writing gets lost easily in the crowd of so many trash writings. As a result most of the readers now buy books just considering their name."
Prof Mustafa Nurul Islam was present as chief guest at the programme which was attended by Nurul Islam Anu, a former CSP officer, Advocate Shahida Begum and Monirul Huq, publisher of the book.