Riding a high wave
In conversation with Kushum Shikdar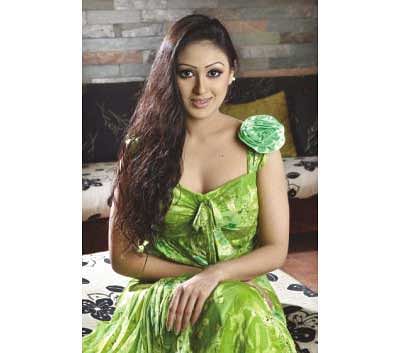 Kushum Shikdar is riding a high wave with the release of her second movie, "Lal Tip" [on February 17]. Now running at 26 movie theatres across the country, the Impress Telefilm Ltd. presentation has had a good run so far. The actress is excited about the new release, expressing her intention of cementing a place on the silver screen.
The Daily Star (TDS) recently caught up with the actress to get a glimpse into her current and future projects.
Tell us something about the film "Lal Tip".
Kushum: It is my second movie. The story of "Lal Tip" hinges on the life of a Bangladeshi expatriate girl living in France. We shot the film in France, Thailand and Bangladesh. I felt that the story was unique and the making also offered something different. Overall, I would have to say that "Lal Tip" is a complete love story.
Do you have a few words on "Lal Tip" for your fans?
Kushum: The only thing I want to do is to urge everyone to go to the movie theatre and watch the movie. Unless you do that, you would not know how great this film is. You will not get an idea about the type of movies being made, unless you go to the cinema hall.
Did you go to a movie theatre to watch the film?
Kushum: Yes. I watched it in Dhaka. I also plan to on watch the movie later, outside the capital.
Can you share some memorable incidents while shooting the film?
Kushum: Plenty of funny things happened during the one-and-a-half years the film was shot. Once we were shooting near the Eiffel Tower in Paris, with temperatures as low as minus three degree Celsius. The scene required me to cry, something which I'm capable of without any difficulty. But on that day I couldn't manage to shed a tear no matter how hard I tried. I later realised that my teardrops were freezing before they could trickle down my face. It was a very unique experience for me.
Your costumes for the film -- who is the designer?
Kushum: I designed my own clothes for the scenes shot in Bangladesh. While shooting in France, I put on costumes by French designer Hillary Dewser.
Which TV plays are you doing currently?
Kushum: I am acting in "Deyal", which Hridi Haq is directing. I'm also working in Faruk Hossain's serial "Boeing 707". Several other plays are also being aired at the moment, such as "Ponditer Mela", "Eki Shohore", "Uttaradhikar", "Icarus-er Dana" and "No Man's Land".
What would you count as the most significant work in your career?
Kushum: There are many that deserve mention, as I have done a huge array of plays throughout my career. I could name several at the moment, "Ghaat-er Kotha", "Noukadubi", "Johur Ali Johuri", "Bagh Putul", "Monkora", "Jyotsnakaal", "Jolpori", "Megh Baloker Golpo", "Haater Rekha Kotha Bole" and "Ondhokarer Phool".
You also sing...
Kushum: I have been singing since childhood. But after becoming the Lux Anandadhara Photogenic in 2002, I became busy with acting. However, I released an audio album in 2002, titled "Jibone Joto Chawa".
Tell us something about your debut film.
Kushum: My first movie was "Gohine Shobdo", which was widely acclaimed. In both the movies I'd done, I acted opposite Emon. The movie gained much popularity outside the country.