"Monpura": An uncomplicated love story in an idyllic setting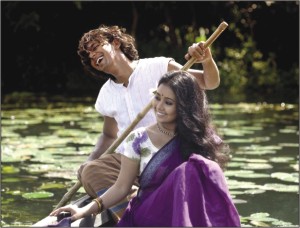 Popular TV play-maker Giasuddin Selim's debut feature film Monpura is set to be released in April. In an interview with The Daily Star, Selim talked about the film, his experience and aspirations.
According to the filmmaker, shooting and dubbing for the film have already been done and at present they are working on the music. Popular musician Arnob has done the background scores. Rest of the production is expected to be completed within a month.
Monpura is an uncomplicated love story. The protagonist of the film, Shonai, is sent to an island called 'Monpura' against his will. Frustrated with unbearable solitaire, Shonai comes across a boatman's daughter, Pori. The young man falls for the belle at first sight. Eventually a relationship blossoms. But does every relationship find its ultimate destination?
Chanchal Chowdhury and newcomer Farhana Mili play the lead roles. Veteran actor Mamunur Rashid and Fazlur Rahman Babu play other important roles.
"Love stories will never lose their appeal, hence for my debut film I wanted to depict one," said Selim.
Machhranga Production has produced the film along with Selim and his associates.
A highlight of the film is its music. Four songs in the film have been rendered by Momtaj, Krishnokoli, Chandana Majumder and actor Fazlur Rahman Babu.
Most of the shooting was done in Dhunat, Bogra. Other locations in Kushtia and Dhaka were used as well. Selim reminisced several incidents that occurred while shooting the film.
Usually outdoor shooting is not done in the rainy season. But as my story demands it, I had to shoot several outdoor sequences in the pouring rain. Once we even had to face the Nor'wester.
Shooting in Dhunat was challenging, as we had to work for sixteen days at a stretch.
The filmmaker has great hopes for a revival of the Bangladeshi cinema. He pointed out that our cinema had directors like Zahir Raihan and Khan Ataur Rahman. Selim wants to contribute to the process of making better Bangla films again.