Emphasise proper planning
PM asks engineers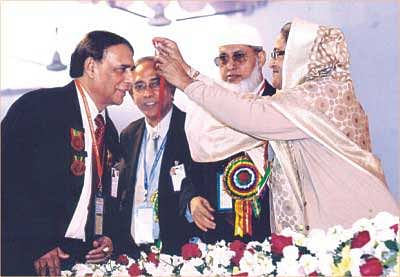 Prime Minister Sheikh Hasina yesterday asked engineers to act as responsible citizens and ensure proper and planned utilization of the tax money and the limited resources of the country to provide more services to the people.
She however noted that, "Proper utilization of state resources as well as maintaining qualitative standard of the development activities depend on the honesty, efficiency and dutifulness of the engineers."
The premier said this at the inaugural session of the four-day long 53rd Convention of the Institution of Engineers, Bangladesh (IEB) held on its city premises.
Around 85 percent funds of the government's development activities are spent through the engineers, she said, urging the engineers and technologists to put emphasis on proper planning and use of right technology to this end.
Hasina stressed the need for low-cost sustainable equipments and structures, innovation of alternate energy and energy-efficient equipments as well as innovating techniques for building low cost houses.
She asked IEB to suggest a specific policy to set up residential, commercial and industrial areas at district and upazila level to ensure maximum utilization of limited lands in the country.
Highlighting the need for adopting improved methods of crop cultivation and preservation to ensure food security, she urged the engineers to find out ways to reduce post-harvest losses that account for nearly Tk 30,000 crore per year in absence of appropriate preservation facilities.
Referring that around Tk 100 crore is spent every year for importing agricultural equipments, she hoped that the country would become self-reliant in producing such equipments if technology, training and capital are made available to the manufacturers.
She also put emphasis on sustainable and environment-friendly development programmes and technologies to cope with the adverse impacts of climate change, the big challenge of today.
The premier said, in order to raise the power generation to 7,000 megawatt (MW) by 2013 and 20,000 MW by 2021, the incumbent government has taken the initiatives of establishing coal-based power plants, nuclear power plants, construction of inter-grid network with India and hydroelectricity generation with Bhutan and Nepal.
Regarding making a digital Bangladesh, she said, apart from bringing 4,501 unions under internet network through Union Information Centers, the government has taken the initiative for a second submarine cable connection to ensure high speed internet facilities.
Earlier, the PM distributed medals and certificates among the best engineers for their outstanding contributions in respective fields in 2011.
She also unveiled a memorial sculpture of War of Liberation set up on the IEB premises.
IEB President Engr Nurul Huda presented the PM with a crest of the 53rd IEB convention.
Convener of the convention preparatory committee Engr Munir Uddin Ahmed gave the welcome address while its member secretary Engr Mohammad Hossain, IEB General Secretary Engr Abdus Sabur and IEB president addressed the function.