2011 ends on a high note!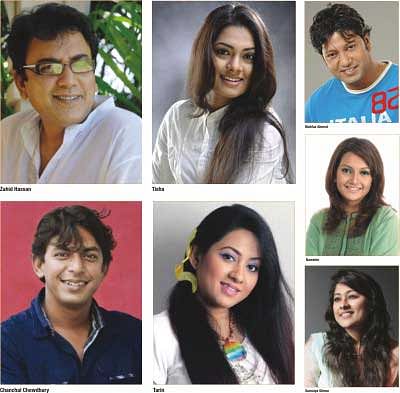 The year 2011 was one of ups and downs in the TV media, with experienced actors fighting to maintain their presence among the viewers, while newcomers worked hard to cement their own positions in the media. Different TV channels aired a plenitude of serials, as well as countless one-hour TV plays. Here is looking back at the past year:
A league apart
They are a league ahead of their peers. At the beginning of 2012, we take a look at the most successful and talked about directors, actors, actresses and productions of last year.
Actors: Zahid Hassan, Mahfuz Ahmed, Mosharraf Karim, Shahiduzzaman Selim, Chanchal Chowdhury, Sajal, Mir Sabbir, Arfin Shuvo, Anisur Rahman Milon, Apurbo, Shatabdi Wadud and Intekhab Dinar.
Among new faces, Kalyan and Syamol revealed remarkable talent.
Actresses: Joya Ahsan was perhaps the most familiar face this year. Over the last few years, she has stolen a march over her contemporaries.
Apart from her, Tarin, Sumaiya Shimu, Bonya Mirza, Tisha, Bindu, Nawshin, Sarika, Bidya Sinha Mim, Jenny, Sadia Islam Mou and Ishita showed amazing talent. In the ranks of the new faces, Nawshaba, Tahsin, Ishana, Mashiyat and Rakhi were much talked about actresses.
Most popular one-hour-TV plays
"Lekhok Sri Narayan Chandra Das", "Jol Torongo", "Daliya", "Dulchhe Pendulum", "Akash Jurey Megh", "Proof Reader", "Necklace", "All About His Mother", "Ekjon Chhayaboti, Putuler Ghor...Ghor Putul", "Aral", "Sudurtoma", "Majhe Majhe Tobo Dekha Pai", "Relax Boss", "Bhalobashar Recipe", "Arman Bhai Bhishon Tension-e", "Eid Shonkha", "Khachar Bhitor Chepta Golap", "Chorer Bou", "Gonona Nirbhul", "Megh Roddur O Romola", "Den Mohor", "Ghash Fuler Kobi", "Mora Jochhna", "Bahattur Ghonta", "Chithhi, Ditiyo Odhdhay", "Pahari Ful", "Odvut Jadukor", "Ekti Prithibi Ekti Manush", "Ghor Showar", "Motor Cycle" and "Second Hand".
Most talked about incidents
Several TV stars tied the wedding knot in 2011 Badhon, Aupi Karim, Apurba, Bonna Mirza, Prova. Lux star Momo, Badhon, Richie Solaiman, Hridi Haq, Srabonti, Proiti Haq experienced the joys of motherhood. Mohammad Mostafa Kamal Raj, Redwan Rony, Iftekhar Ahmed Fahmi, Noyeem Imtiaz Neamul, Animesh Aich, Shahin Kabir Tutul, Noman Robin were the directors who opened their accounts for the silver screen. Models who were constantly under the limelight were Sarika, Shokh, Niloy, Nirob, Monalisa, Joya Ahsan and Sadiya Islam Mou. Bipasha Hayat became busy with hosting shows, along with her regular scriptwriting tasks. Moushumi Bishwas made a sudden decision to move to Canada, but came back eight months later to bury herself in work again. Ritchie Solaiman also went away to the US again around mid-year. Aupi Karim returned from Germany, but went away again on the last day of the year. Talented actor Humayun Faridee turned 60 on May 19. Sadiya Islam Mou earned a large chunk of limelight through her regular appearances in TV plays.
Busy Bees
Those most busy with hosting TV shows were Sharmin Lucky, Munmun, Nabila, Nawshin, Sayem, Nirob Khan, Samiya Afreen, Shormi, Erina, Tania Hossain, Swagota, Lara Lotus, Nova, Moushumi Barua, Alif Alauddin and Alif Chowdhury. Last year, the actor who performed in the most one-hour-TV plays was Sajal. Actor Shahriar Shubho also emerged as a writer in 2011. Singer Porshi also made her acting debut. Ke Hote Chaye Kotipati became a hot topic of discussion throughout the year. Litu Anam made a noteworthy contribution by forming LA Aid an organisation for cancer patients. Brindabon Das remained the top dramatist throughout the year.