Intensify research to increase production
PM urges experts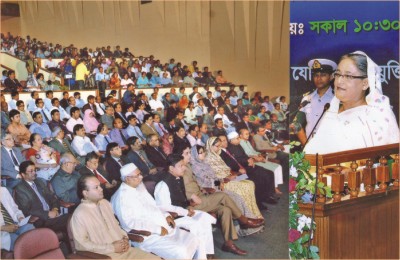 Prime Minister Sheikh Hasina yesterday called upon the scientists, engineers and other experts to intensify research for increasing production in all sectors in view of the rising population.
"To meet the demands of the increasing population, there is no alternative but to intensify research in all sectors," she said this while she was addressing a function marking distribution of fellowship and research donations at the Osmani Auditorium in the city.
Science and ICT ministry organised the function. A total of 895 people received Bangabandhu fellowship, NSICT Fellowship and research donations for their respective research projects at the event.
Addressing the function, the premier said her government would think how the researchers can be facilitated with special facilities, including extension of job tenure, if necessary.
"Research is such a work, where there is no time limit. A person can end his or her job tenure, but cannot leave their research works half-done. So, we'll have to think how the researchers can be given special facilities including financial support and extension of job tenure."
She laid emphasis on both fundamental and applied research for all out development. As an agriculture-based country, Bangladesh must achieve self-reliance in agriculture and the related sectors, she said.
Referring to Bangladesh's vulnerability to climate change, Hasina said local scientists need to develop modern but cheap technologies to protect the people from the hazards of natural calamities.
She said apart from giving financial support to the researchers, the government had formed a Tk 1000 crore Education Assistance Trust Fund for helping the poor students to continue their studies up to higher level.
Citing examples of many developed nations, she said no country in the globe was developed without quality education and progress in the fields of agriculture, science and technology.
Chaired by State Minister for Science and ICT Yafesh Osman, the function was also addressed by Science and Technology Division Secretary Abur Rob Howlader and Vice-Chancellor of Noakhali Science and Technology University Prof AKM Sayedul.