Al Mahmud turns 75
Birthday bash thrown by Kabita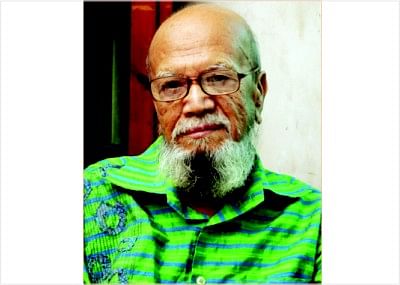 Al Mahmud is considered one of the greatest Bengali poets to have emerged from the 1950s. He has written poems, novels, short stories, essays, and more. His pertinent subjects and unique approach have fetched him admiration for six decades. His immense contribution to Bangladeshi poetry over the years has earned him international acclaim as well. His writings highlight nature, greenery and riverine life typical of Bengal, Language Movement, nationalism, political and economic exploitation, chronicles of the oppressed etc.
On July 11, this reclusive poet turned 75. On the occasion, Kabita, a progressive cultural organisation arranged a birthday celebration at the poet's residence in Moghbazar, Dhaka. Senior poets, writers, publishers, cultural personalities and admirers greeted the poet with flowers, cards and gifts.
Poets Abdul Hai Sikdar, Hasan Hafiz, Kazi Rozi, Nasir Ahmed, Faruk Ahmed, Jahangir Feroze, Ahmed Bashir, Zafar Ahmed Rashed; novelist Zubaida Gulshan Ara and rhymesters Kader Babu, Akhter Hossain, Mahbub Aziz, Anzir Liton, among others, wished the veteran poet on his birthday and spoke on the occasion.
Abid Azam, secretary of Kabita, coordinated the programme. Poet Asad Chowdhury presided over the event. Chowdhury said, "Al Mahmud made great contributions to the Language Movement and Bangla literature. The poet was a freedom fighter as well. He was deeply involved with several literary and progressive movements."
The speakers were of the view that through his widely familiar poetry, Al Mahmud has become part and parcel of the Bangladeshi identity. His writings reveal our social and political issues. His works provide the readers with an authentic perception of the real Bangladesh -- its roots. The poet's works should be evaluated appropriately.
Al Mamud was born in Brahmanbaria district. He started his career as a journalist. He was recognised as an outstanding poet after the publication of "Lok Lokantor" in 1963. Books such as "Kaal-er Kolosh" (1966), "Shonali Kabin" (1966), and "Mayabi Porda Duley Otho" (1976) cemented his position as one of the most prominent Bengali poets. He has received several awards for his remarkable achievements.