Rabindranath: He belonged to the world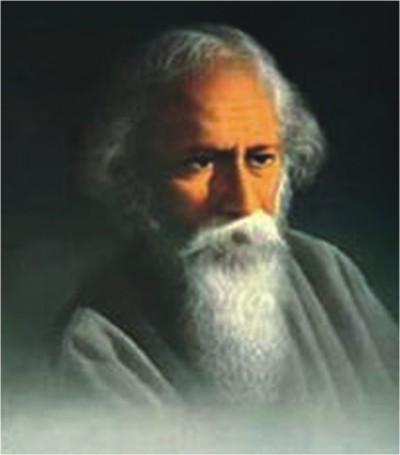 A hundred and fifty years after his birth, Rabindranath Tagore remains a pre-eminent, indeed the pre-eminent, man of letters on both sides of the old, historical Bengal. Humanist, poet, storyteller, artist, playwright, mystic, thinker, he is yet South Asia's voice in a wider global perspective.
On the eve of 25 Baishakh, 8 May, Star Literature pays tribute to the Bard.
--- Literary Editor
All Bengalis will observe the 150th anniversary of the birth of Rabindranath Tagore on 25 Baishakh 1418 with respect, love and gratitude. India and Bangladesh have planned joint state-level birthday celebrations for the greatest poet of the Bangla language.
Rabindranath expected his readers to read his poetry a century later. ('Aji Hotey Shotobarsha Porey…'). His readers haven't disappointed him. We expect them to read him in the coming centuries too. One hundred and fifty years after his birth, he remains the most influential writer in his language.
Rabindranath Tagore to Bangla is what William Shakespeare is to English. As mentioned before, he is the best poet of the Bangla language. Add to it the fact that he is the best writer of Bangla short stories. In fact, as a story-teller, he is second to none. Only Anton Chekhov and Guy de Maupassant can be bracketed with him. His brilliantly lucid, lyrical prose and his grasp of human psychology are unique. It is said that he dealt with every human emotion in his stories and his songs. Tagore is the foremost lyricist of his language and one of its most celebrated composers. His songs and his short stories will keep him immortal for at least a few more centuries. What about his novels? They are also some of the very best in Bangla. He wrote lovely plays. He was also a painter of note. Like Shakespeare, he also acted in his plays. He was a creative man almost all his life from his 16th to his 80th year. He composed rhymes even as a child. To use a cricketing term, he is the greatest all-rounder among Bengali writers. He was the first non-European to win the Nobel Prize in literature. The year was 1913 and he was only 52.
Rabindranath has no equal from many angles. Take the case of the national anthems of South Asia's three important countries India, Bangladesh and Sri Lanka. India and Bangladesh proudly selected his songs as their anthems immediately after becoming independent. In April 2011 we learned that Sri Lanka's national anthem was also penned by Tagore. 'Apa Sri Lanka, Nama Nama Nama Nama Mata, Sundar Sri Boroni' was originally 'Nama Nama Sri Lanka Mata' in Bangla, written and set to tune by Rabindranath. He did so at the request of his favourite Sri Lankan student at Shantiniketan, Ananda Samarkun, in 1938. In 1940 Ananda returned to his native land and in 1946 he translated the song into Sinhalese and recorded it in Tagore's tune. Sri Lanka became independent in 1948. A couple of years later a National Anthem Committee was formed. It chose Ananda's song, after a lot of discussion, on 22 November 1951. No other poet has written the national anthem of two countries, let alone three. Rabindranath is also the pre-eminent literary genius of not only Bengal but the whole of South Asia as well. Or perhaps of the whole of Asia.
It can be claimed that Rabindranath reshaped Bangla literature and music. He modernized Bangla art by refusing to follow rigid classical forms. The Nobel Prize Committee as well as most westerners found his poetry deeply sensitive, fresh and beautiful. They considered his verse spiritual, found his personality mesmerizing and gave him a prophet-like status. His countrymen found his poetry magical and his prose elegant. They admired him when he denounced the British Raj and supported Indian independence. He was knighted in 1915 but he renounced his title in 1919 after the British army's killing of innocent civilians in Jalianwalabagh.
Rabindranath Tagore was the youngest of thirteen surviving children of his parents and was born in the Jorasanko mansion in Kolkata. His father Debendranath Tagore (1817-1905) was the son of Prince Dwarkanath Tagore. His mother was Sarada Devi (1830-1875). He was raised mainly by servants since his mother died early and his father travelled a lot. He remembered his mother very touchingly in his early poems. He didn't have much of schooling and studied literature, biographies, history, modern science and Sanskrit at home. He very seriously read the poetry of Kalidasa. At seventeen he went to England and attended the public school at Brighton, East Sussex. He wanted to become a barrister but returned home without a degree.
He married Mrinalini Devi (1873-1902) on 9 December 1883. They had five children, two of whom died before reaching adulthood. Tagore died on 7 August 1941 (Shraban 22, 1348). Between 1878 and 1932 he visited more than thirty countries of five continents.
Rabindranath Tagore wrote eight novels and four novellas. Gora, Jogajog, Chokher Bali, Noukadubi and Shesher Kobita are remarkable for their quality. Shesher Kobita is very lyrical and has elements of satire and post-modernism. Satyajit Ray has turned some of Tagore's novels into excellent films. He wrote a lot of non-fiction, ranging from Indian history to linguistics. He wrote autobiographies, travelogues, essays and lectures. Europe Jatrir Patra (Letters from Europe) and Manusher Dharma (The Religion of Man) were admired a lot at home and abroad.
Rabindranath wrote more than two thousand songs, widely considered his best creation. His songs are an integral part of Bangla culture. He started to paint at sixty and turned out to be a prolific painter. He even had an exhibition in Paris. His plays are also world class. They have been staged around the world.
Between 1891 and 1895 Rabindranath wrote more than half of his stories. They are noted for their profundity not only in Bangla but also in world literature. Like his songs, they are also his finest work. Many of his characters are simply unforgettable. Kabuliwallah, the Afghan fruit-seller, and little Mini, the postmaster and young Ratan, Subha, the speechless village girl, Mrinal of Strir Patra, the lonely Charulata and Neela, the elegant but deprived heroine of Poyla Nombor. He dealt with every human emotion and did so with deep insight and matchless compassion.
Rabindranath is ultimately a poet. His poetry is primarily romantic. The poems are varied in style, from the classical formalism down to the comic, visionary, ecstatic. The Vaishnava poets influenced him considerably at the beginning and so did the Upanishads and saint Kabir. The Bauls influenced and enriched him. Later modernism made an impression on him as well. Great European composers have set Tagore's poetry to music.
On this 150th anniversary of his birth Rabindranath Tagore will be remembered not only in Bangladesh and India on but in Europe, the United States and Latin America as well. He belonged to the world when he lived; and he belongs to the world even now. As a thinker he was well ahead of his time. Such is his reputation that he will be remembered even a thousand years later.
Junaidul Haque, literary critic and novelist, is a senior airline official.