Fake medicine factory busted
5 held; rectified spirit seized from homeopathy drug factory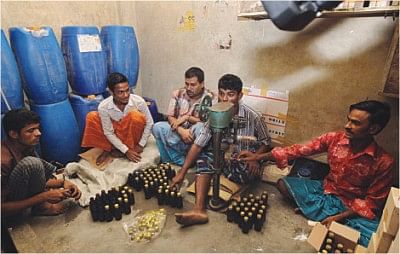 A team of Rapid Action Battalion yesterday busted a fake homeopathy medicine factory and arrested five people in this connection from Old Dhaka's Babu Bazar area.
They also seized around 1,200 litres of rectified spirit from the spot.
The arrestees are factory manager Mohammad Jasim Uddin, workers Nazrul Islam, Alamgir Hossain, Mizanur Rahman and Mohammad Mainuddin.
Owner of the factory Hero Kamal, however, managed to escape arrest.
A team of Rab-10, accompanied by Superintendent of Drug Administration Akib Hossain, raided the factory on the first floor of S Ahmed Market in Mitford.
The team seized around 1500 bottles, each containing 100ml of rectified spirit, said Maj Harun-ur-Rashid, deputy director of the Rab unit.
They also seized 18 drums of this highly concentrated ethanol, each containing 60 litres.
The team found the workers putting labels of different homeopathy medicines of foreign and local brands on the bottles. Huge numbers of labels were also recovered from the site, added Maj Harun.
The arrestees admitted they used to supply the spirit to various homeopathy stores in different districts. They failed to produce any registration document before the team for running the factory and marketing homeopathy medicine.
The Rab official said they had information about drug addicts collecting such spirit from homeopathy medicine stores.
Hero Kamal rented the store as a godown, said a local trader, adding the owner and workers used to work inside it on weekends keeping doors closed.