National e-content award
SUST makes admission paperless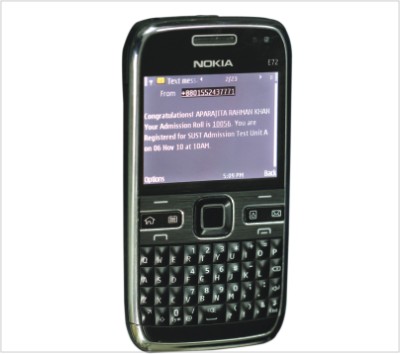 After passing higher secondary or equivalent examinations, admission seekers usually get puzzled in a rush for getting admission into a suitable institution. And to add insult to the injury, the application procedure of higher educational institutions is quite lengthy and sometimes blurry as well.
To make the admission system easier and hassle free, Shahjalal University of Science and Technology (SUST) introduced whole new 'Paperless Admission System' from last year.
The initiative delivers a smart registration system and payment method to the applicant, which does not require filling up traditional application form, bank draft even any attested documents.
The admission seekers can have all information on the admission process through typing SUST HELP and sending an SMS to 16222 number from any mobile phones.
To apply for a particular unit, an applicant needs to type first three letters of his/her board, roll number of the HSC examination, year and the unit's category, and send these to the same number.
If the particular applicant has all necessary qualifications, in a return text, the SUST authorities will seek confirmation from the applicant for admission registration.
Once the applicant confirms his/her registration and given a roll number, specific balance will be deducted from the mobile number.
The selected applicants will just have to go to the examination centre on the specific day. The applicants must carry attested photo when they will be appearing at the admission test.
After the admission test, all answer scripts are passed through an OMR (Optical mark recognition) machine and a text file is generated. Then the file is used as input of the Result Processing Software where all conditions are predefined in software logically.
Finally, after processing the given text file, the complete result is generated as output with a single click in the system.
Once the admission test committee publishes the result officially, anyone can check it by sending a single text from any mobile phone operator.
The system has a hotline (24/7) service. The initiative not only saves time and cost, but also paper as well.