E-stalkers on the prowl
Faceless criminals use cell phones, internet to harass women of all ages; law largely inadequate to tackle the silent epidemic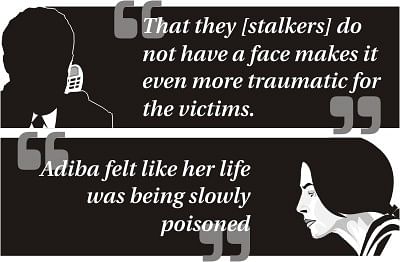 While conventional stalking has received much attention lately, harassment through mobile phones and the internet has grown to be a silent epidemic in the last few years.
The Daily Star has recently interviewed 30 women at random about the issue, and found every one of them has been harassed electronically by ex-boyfriends or strangers.
"It is sexual harassment of the new millennium," said Sultana Kamal, rights activist and former adviser to the caretaker government. "And almost all the victims are women."
Kamal said the anonymity of the electronic communication devices makes it more likely for a person to indulge in stalking. "Some people are turning to these tools to do and say things they otherwise would not do.
The women interviewed were middle and upper class professionals, students and a housewife.
One was a schoolgirl who spent sleepless nights because of crank calls; another was an industrialist's daughter who stumbled across obscene pictures and her personal details on a Facebook profile someone else had opened in her name.
Naima Hossain, a college student, was taunted and teased over the phone for a week by a person she had never met. The stalker, who asked her out several times, threatened to throw acid on her face for refusal.
"That they [stalkers] do not have a face makes it even more traumatic for the victims," said Shamim F Karim, a psychology professor at Dhaka University.
Getting stalked by someone the victim knows can be no less unnerving.
Shamrin Afia Adiba, a BBA student, knew her stalker. For three years, she got taunting phone calls almost every hour.
About the nightmare she had gone through, she said it felt like her life was being slowly poisoned.
The stalker, a jilted male friend working at a telecom operator, used her cellphone number to track her location in real time. He let her know he was watching her, and threatened several times to kidnap her.
Switching to a different operator did not help, as he managed to trace Shamrin's new number through a friend working there.
While no statistics are available to confirm the number of electronic stalking victims, social experts point out that almost every woman using a mobile phone or the internet has suffered abuse at one time or another.
From January to July this year, 44 women reported harassment to the cyber crime prevention cell of the police's detective branch. In response, the police have blocked 46 SIM cards.
The law enforcers however admit that blocking SIM is not enough, as most people own multiple numbers, and a new subscription is only some cash away.
They said the existing laws appear toothless when it comes to fighting e-stalking, as some of them are more than a hundred years old.
Mustafizur Rahman, officer-in-charge of the New Market Police Station, said, "The laws require us to know the stalker's identity to take action against him. This is a major problem since in many cases the perpetrator remains unidentified."
Supreme Court lawyer Nina Goswami, director (mediation) at Ain O Salish Kendra, the rights group which has received two cyber-stalking cases this year, stresses the need for a law against cyber crimes.
"It is difficult to take action against the stalkers as there is no specific law,'' said the lawyer, herself a victim of mobile phone harassment.
A proposed act to curb cellphone-related crimes and harassment promises some respite. The draft law defines stalking, both physical and digital, as sexual harassment, and prescribes punishment.
Experts, however, fear the new law may prove ineffective, as most of the stalking incidents tend to go unreported.
Arifa Hossain says she perhaps knows why victims are reluctant to complain to the police. She went to the local police station to report abusive phone calls but thought better of it.
"You won't expect much from the cops once you see how they fumble with the mouse and eye the computer as if it's an alien thing."
A police representative admitted there is a lack of tech-savvy officers needed to hunt down high-tech criminals. He said this is a reason why the detective branch's cyber crime cell, set up in 2008, exists in name only.
Exceptional cases, however, receive special attention from the police. When a youth posted offensive materials on Facebook to taunt politicians in May, he was arrested within days and the whole social networking website was banned for a week.
"Banning an entire website is out of the question. But there should be some sort of a law or policy to safeguard our young women," said Dr Muhammad Zafar Iqbal, a professor at Shahjalal University of Science and Technology.
Experts believe fear of social stigma is another reason why victims are loath to file complaints with the police.
"Forget police, women do not tell anyone about being harassed for fear of being stigmatised," said Shamim F Karim, psychology teacher at DU. "Women, especially those in the city, have become somewhat accustomed to harassment in everyday life."
She suggested that anyone experiencing harassment over the phone or the internet should inform her family members immediately. "The family members can go to the police if necessary."
She noted that some young women, who are actually unaware that they are being subjected to a form of sexual harassment, try to laugh off the matter.
Some do not.
Trisa Gloria Rodriguez, for one, has been receiving irritating phone calls for some time. The stalker calls from different numbers and makes loud smooching noises.
She tried to reason with him, but it did not work. Yelling did not bring result either.
"Disgusting. I feel like kicking him," says an irate Trisa.