MoU on hiring manpower from Bangladesh soon
Omanese minister tells CA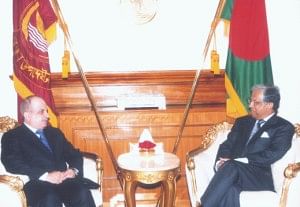 Chief Adviser Dr Fakhruddin Ahmed said yesterday Bangladesh could be a strategic partner of Oman in terms of a great source of skilled and semi-skilled workforce, as the gulf country lifted a bar on recruitment.
He expressed the view when visiting Manpower Minister of Oman Juma Bin Ali Bin Juma Al Juma made a courtesy call on the Chief Adviser at his office. They discussed recruitment of manpower and exploring potential of trade, commerce and investment between the two countries.
The Oman minister apprised that they would soon sign a memorandum of understanding (MOU) with Bangladesh in Oman on recruitment of manpower.
At present, a huge number of Bangladeshi people are working in that country.
The Chief Adviser thanked and expressed gratitude for lifting the ban on visa of Oman for Bangladeshi workers in all categories.
The Oman minister appreciated Bangladeshi workers' performance in his country, and said they need skilled manpower in various professions like teacher, physician, engineer and technician.
Chief Adviser Dr Fakhruddin welcomed the opportunity, saying that it would be a "win-win situation for both the countries in terms of employment and economy".
He said the level of skill of Bangladeshi people is rising through various training-and capacity-building programmes and the country has very high-quality professionals in various fields, including teaching, medical, engineering, IT, and nursing.
Both the Chief Adviser and the Oman minister emphasised exploring business and investment potentials and exchange of visits.
Overseas Employment and Expatriates Welfare Adviser DrIfthekahr Ahmed Chowdhury was present at the meeting.