"I had no intention of being an actor" -- Ferdous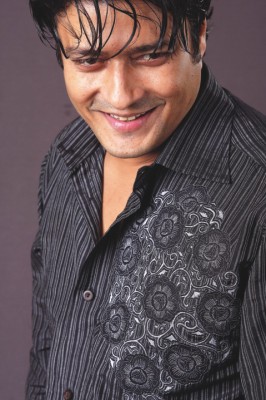 Actor Ferdous is busy shooting for both Dhaliwood and Tollywood films. He is also producing a film "Ek Cup Cha." Noim Imtiaz Neyamul is directing the film.
"The story is quite remarkable. I hope the audience will head towards movie theatres to watch the film," said Ferdous.
Ferdous has recently acted in the film "Guerrilla", directed by Nasiruddin Yousuff. "It's been a great opportunity for me to act in this film. The film is based on the Liberation War and has received financial assistance from the Government of Bangladesh. The film is an adaptation of a Syed Shamsul Haq story," he said.
Asked about his experiences of acting in the film, the actor said, "It was truly an interesting experience. I've done more of a cameo in the film. I play a university teacher. Shooting was held in the northern parts of the country."
About acting in Tollywood (Kolkata-based movie industry), Ferdous said, "So far I have acted in around 15 Tollywood films in the last two years."
About Bangladeshi films, Ferdous pointed out that prior to working in "Guerrilla", he acted in the film "Jolrong" directed by Shahnewaz Kakoli.
What are the noticeable differences between Dhaliwood and Tollywood films? "Distinctions are conspicuous. Commitment to work gives a boost to Tollywood films. A debate is on in our country right now, regarding whether Hindi films are to be screened or not. My view is that if we screen 10 Hindi films in Bangladesh, they have to screen 10 Bangladeshi films in India," he responded.
About his upcoming film "Ek Cup Cha" that he is producing, Ferdous said, "I have been thinking of producing films. Noted director Basu Chatterjee has started writing the script. Internationally famed singers Runa Laila and Hari Haran (India) will do playback for a song. Moushumi is my co-artiste in the film. Renowned Tollywood director Rituparno Ghosh will also act in the film."
Shooting for the film will kick off next month. Dhaka, Sylhet and Cox's Bazar have been selected as shooting locations. Emon Saha, Habib, Nochiketa and Bappi Lahiri will direct music for the film. Humayun Ahmed, Kabir Bakul and Zahid Akbar will write lyrics for the songs.
Talking about the initial stage of his 15-year old film career, Ferdous said, "I had no intention of becoming an actor. After Salman Shah's death in 1997, I acted in one of his unfinished films, 'Buker Bhetor Agun'. Right at that time eminent Indian director Basu Chatterjee came to Bangladesh in search of a fresh face for his film. After watching the print of 'Buker Bhetor Agun', Chatterjee selected me for his film 'Hothat Brishti' which was a major hit. 'Hothat Brishti' was the turning point of my career."
"I would like to continue acting till the end of my days. When the audience no longer wants me on the screen, I will pull the curtain on my career," he said.