Suborna Mustafa: Expanding horizons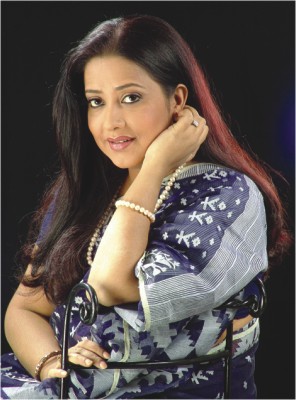 Last year Suborna Mustafa directed a single-episode play, "Akash Kushum" for ATN Bangla. Once again the brilliant actress takes on the challenge of directing a play. This time she will direct another single-episode play titled "Shunno." Additionally Suborna herself has dramatised the play. Traupa Majumdar and Jitu Ahsan will perform the lead characters in the play.
The actress-turned-director wants to keep the story of the play under wraps as she wants to surprise the audience. "I'm sure that the fans will love the story," she said.
Though she is testing her hand as a director, Suborna does not want to continue in her new role. She said, "Acting is everything to me. I do direct plays for relaxation, as sometimes I write."
Some serials featuring Suborna are on air at present. These include "Shimanto" (on Desh TV) and "Manobjamin" (ntv). A new serial titled "Uposhonghar" will soon go on air on ATN Bangla.
Suborna is also busy with shooting. Arun Chowdhury's upcoming serial "Rumali" is on her list. The play is based on Humayun Ahmed's eponymous story. Suborna will perform the role of Bakul's mother in the play.