Silver Bell's School, Ctg College, DU become champions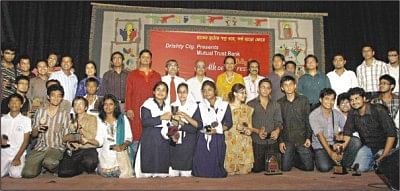 Silver Bell's Girls' High School, Chittagong College and Dhaka University emerged as champions at different categories in the 'Mutual Trust Bank- The Daily Star Debate Contest 2010.
The prize giving ceremony of the contest was held at Chittagong Shilpakala Academy yesterday evening at the concluding ceremony of the two-day long debate competition.
Former Vice Chancellor of Chittagong University Prof Abdul Mannan was present as the chief guest.
Silver Bell's Girls' High School clinched the title in the 18th inter-school debate while Chittagong College in 10th inter-college debate and DU in 7th university debate competitions.
Drishty Chittagong, an educational and cultural organisation, arranged the contest and the festival.
Prof Mannan in his speech observed that lack of healthy debate and use of muscle power are the main reasons behind the present unstable situation of the society.
He urged the young students to practise healthy debate in every stage of their lives while making decisions on any issue.
Terming practice of debate as "a long tradition of the sub-continent", Prof Mannan emphasised arranging such competitions regularly providing scopes for the students to engage themselves in extra curricular activities.
Silver Bell's School defeated Ispahani Public School in the final round of the school-level debate on the topic "Indian films leave negative impact for us".
Zunaed Musrad of Ispahani School was adjudged the best debater.
In the college-level, Chittagong College defeated Hazi Md Mohsin College while Mostakim Chowdhury of the winning team became the best debater.
Bangladesh University of Engineering and Technology became runner up in the inter-university debate while DU debater Nazmun Nabi was adjudged the best debater.
Six fun debates including baroari debate, English debate, regional debate, plan-chat debates, star debate and leader-actor debate were also held on the concluding day of the festival with the participation of leading debaters, teachers, political and cultural personalities.
BNP leader Abdullah Al Noman, Awami League leader MA Salam, Communist Party of Bangladesh leader Prof Ashok Saha, actors Jhuna Chowdhury, Rafikullah Selim and Shah Alam Dulal participated in the leader-actor debate.
Drishty president Masud Bakul presided over the ceremony moderated by its general secretary Saif Chowdhury.
Chairman of Chittagong University Marketing Department Prof Syed Ahsanul Alam Parvez, Sunshine Grammar School Principal Safia Gazi Rahman, among others, were present at the prize giving ceremony.