<i>His dream comes true </i>
Jute genome hero Alam tells The Daily Star stories behind his decoding feats, aspiration for doing something for motherland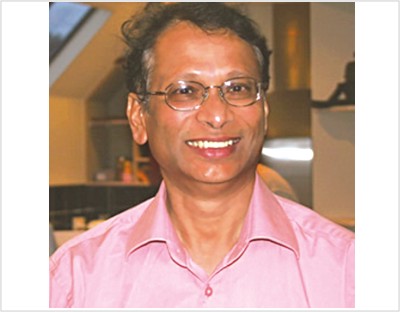 In two successive years, expatriate Bangladeshi scientist Dr Maqsudul Alam achieved two milestones in genomics -- sequencing the genomes of papaya and rubber plants.
These successes shot Alam into spotlight in the scientific fraternity and hit headlines in the world's leading scientific journals in 2008 and 2009 but that could not quench his thirst for doing something special to benefit his motherland.
Maqsudul Alam, born in Faridpur -- a region known for growing jute -- finally translated his dream into reality this month by successfully leading a team of Bangladeshi scientists and researchers in decoding jute plant genome.
In Alam's own words, "It worked as an orchestra, the timing was right; the team members were passionate and talented.
"Through this project, we can deliver high quality and disease resistant seeds for improved jute fibre at very low cost to the farmers," hoped the University of Hawaii Professor Maqsudul Alam in an exclusive interview to The Daily Star through e-mail.
After he led genome sequencing of a transgenic papaya in Hawaii, Alam did the same for rubber in Malaysia last year. But deep in his mind, he always nurtured a craving for doing the same for jute at some opportune time.
Maqsudul Alam, whose father was martyred during Bangladesh's Liberation War, pursued higher studies and advanced research in Russia, Germany and USA, and had a knack for growth and developments of various plants even in his childhood days. He was mesmerised to see how big a lady's finger had grown after a flooding in the courtyard of his father's old Dhaka residence.
After successful accomplishment of jute genome sequencing and its field application, Alam said Bangladesh would be able to produce export quality jute products and multiply its jute trade in global market up to several folds.
Asked to describe how and when the jute genome sequencing programme was initiated, he said it all began when he approached Professor Ahmed Shamsul Islam, coordinator of GNOBB (Global Network of Bangladeshi Biotechnologists) in February 2008 regarding the possibility of sequencing the jute genome. Bangladeshi scientists already looking into the possibility of getting the jute genome sequenced jumped up at this offer and this set the ball rolling.
The following months saw Alam receiving phone calls from Agriculture Minister Matia Chowdhury, his visits to Bangladesh on several occasions, meeting with local scientists and different government, private, academic stakeholders. Finally, late last year the 'Swapnojaatra' team got the necessary funding from the government and accelerated the jute decoding.
He appreciated Bangladesh government's contribution of Tk 10 crore to fund his latest venture -- jute genome sequencing-- success of which was announced in parliament by the prime minister on Wednesday.
Researchers from Dhaka University, Bangladesh Jute Research Institute and Software Company DataSoft in collaboration with Centre for Chemical Biology, University of Science Malaysia and University of Hawaii, USA decoded the genome with Alam giving the lead.
Genome sequence represents a valuable shortcut, helping scientists find genes much more easily and quickly. A genome sequence allows scientists to identify and understand how genes work together for the plant's different features like growth, development and maintenance as an entire organism. This allows them to manipulate the genes and enhance, reduce or add certain features of the plant.
Physical work on genome sequencing took place in different laboratories at home and abroad, said Alam. He listed the names of the labs -- molecular biology, DNA isolation, bioinformatics and 'manual curation'-- at Dhaka University; assembly and annotation, cluster computing, all coding, middleware scripting at Data Soft; manual curation and functional genomics at Bangladesh Jute Research Institute, high-end computational facility, assembly, coordination and intellectual leadership at Centre for Chemical Biology of University Sains, Malaysia, and raw data generation, assembly and management, connecting all the dots and intellectual leadership at the University of Hawaii.
Asked about how much sequencing has been completed as jute genome has got 1.2 billion genetic letters, the renowned scientist said, "Draft genome sequencing is completed." He however declined to say when a patent could be obtained.
Referring to the inclusion of young graduates in the 'Swapnojaatra' team that carried out the jute genome sequencing task, Alam said this type of effort would stop the threatening brain drain from the country.
"If government does not invest, we may forget the rest. The brain drain will continue."
Dr Alam added, "The human history, our own history and the science discovery paths have shown without any reservation that if you need a healthy economy and society, short and long-term investment for education (from primary to post graduate) with emphasis on 'curiosity-driven' human resources is a must."
Asked to rate the research capabilities of Bangladeshi's scientists in the fields of molecular biology and plant biotechnology, Alam said, "Brilliant, dedicated and passionate researchers with extremely poor and outdated infrastructure. It's very sad and unfortunate that our team at Dhaka University does not have even ultracentrifuge and elementary high throughput technology."
Ultracentrifuge is a centrifuge optimised for spinning a rotor at very high speed that has important uses in molecular biology, biochemistry and polymer science. High throughput technology is a method to purify, identify and characterise DNA, RNA, proteins and other molecules.