National Film Award winners' reactions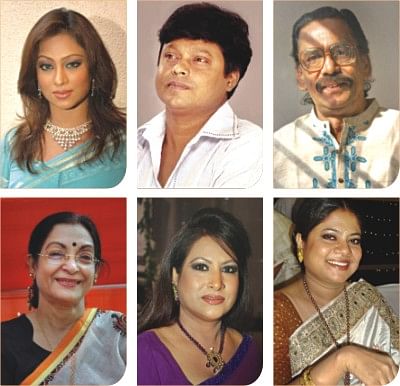 National Film Awards for the year 2008 were announced on February 11. An eleven-member jury, chaired by the additional secretary to the Ministry of Information, selected the winners for 24 awards in 23 categories. Young filmmaker Murad Parvez's "Chandragrahan" bagged the best film award.
Reactions from some of the winners:
Popy (best actress, for her role in ''Megher Koley Roud''):
This is my second National Film Award, but I was so excited that I felt that I got it for the first time. It feels great to be recognised for my work. When I work, I do it without any expectation -- I just put my mind to it and try to bring out the best. I want to thank the whole team -- everyone from the directors to technicians.
Kabir Bakul (best lyricist, for his song in "Megher Koley Roud"):
This was my first National Award. It's a dream come true. Every creative individual wants recognition of his/her work. I dedicate this award to the late Pranab Ghosh, who inspired me greatly. I missed him a lot at the awards ceremony.
Alam Khan (best composer, for "Ki Jadu Korila"):
It's wonderful! This is my sixth National Award. It's been an immense pleasure to have my work properly evaluated and recognised.
Dilara Zaman (best supporting actress, for "Chandragrahan"):
I'm very happy. It's nice to know that I have found a place in peoples' hearts. Earlier I received Ekushey Padak but this is my first National Award.
Gulshan Ara Chompa (best supporting actress, also for "Chandragrahan"):
This is my fifth National Award. I'm ecstatic for two reasons -- I received the prize from my favourite personality and this award recognises my efforts in portraying a difficult character (of a mentally unstable woman) in "Chandragrohon". To look the part, I had to go without bathing for days. My character repeated only these words -- "O baba rey!" I had to make the audience understand the hunger, torment and helplessness my character felt with these words and my gestures.
Kanak Chapa (best female playback singer, for "Ek Takar Bou"):
Winning this award is a matter of great honour. It is a major recognition for me, but the true reward is the love and support of music enthusiasts and my near and dear ones. I thank them for their continuous support.