Meril Prothom Alo Awards
Lifetime honour goes to Nazrul exponent Shudhin Das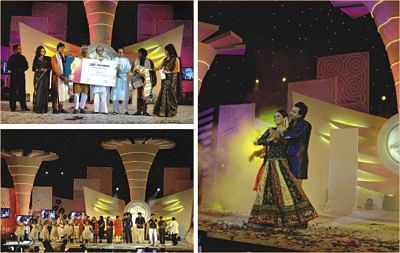 Serpentine queues formed outside the Hall of Fame of Bangabandhu International Conference Centre on April 9 where the Meril-Prothom Awards 2009 was to be declared.
The evening began with editor of Prothom Alo, Matiur Rahman delivering a welcome speech, followed by that of managing director of Square Toiletries Limited, Anjan Chowdhury.
Dhallywood star Ferdous who has previously anchored this event twice over, along with five Bangladeshi artistes -- Monalisa, Momo, Badhon, Munmun, Prova; four foreign artistes -- Sofi, Adwina, Jessica, Diana and a number of professional dance artistes participated in a show mingling both eastern and western tunes.
Followed the spirited performance, Ferdous unveiled two 'Bagher Bachcha' (tiger cubs) -- Chanchal Chowdhury and Mosharraf Karim and assigned them to anchor the programme. The fun-loving audience gave them a hearty round of applause. Lux-Channel i stars Ishana and Orsha assisted them in anchoring.
Subtle humour, satire, jokes and even poetic anchoring, nothing was left out from the bags of the witty anchors.
Spectators were at the edge of their seats as eminent artist Qayyum Chowdhury with Matiur Rahman and Anjan Chowdhury was about to declare the Lifetime Achievement Award. In a welcome end to the suspense Shudhin Das was declared the personality of the year. The lucky winner was awarded a cheque for Taka 100,000, a crest and uttario.
Though born in Bikrampur (Munshiganj), Shudhin Das had a close cultural affinity with Comilla. The veteran artiste has dedicated his entire life to promoting Bangla music. Aside from promoting the songs of Panchakobi, he has popularised the songs of mystic bard Lalon by authoring two books. However, he stands out for his accomplishment of notations of songs of our National Poet Kazi Nazrul Islam in more than 20 volumes. He is also an Ekushey Padak recipient (1988).
"While Rabindranath led a life of affluence our National Poet Nazrul led an impoverished life. Yet we fail to find any limit to Nazrul's creations. Nazrul is credited with creating more than 3,000 songs. That is almost impossible for a litterateur to grasp," said Shudhin Das
Meril-Prothom Alo Awards-2009 were distributed among TV and film stars, musicians and singers amid a union of cultural personalities. The nominations for the popular awards were open to public voting while the prestigious critic awards were there in line with.
Renowned Tagore singer Rezwana Chowdhury Bonya and noted Nazrul artiste Fatema-Tuz-Zohra rendered "Esho shyamol o shundor o" and "Shukno patar nupur paye" respectively with a dance performance by Aupee Karim and her troupe.
Habib Wahid and Nancy were named the best male and female singers for the song "Bahir boley durey thakuk" from their album "Dwidha" while anchor Mosharraf Karim and Joya Ahsan bagged awards for the best TV play acting in "Houseful" and "Tarpor O Angurlata Nando Ke Bhalobashey" respectively in the popular choice category.
Dhallywood star Shakib Khan with model-actress Shokh and Lux-Channel i superstars Bindu and Mim performed an eye-catching dance number with traditional Bangla tunes.
Nurul Alam Atique received two critic awards (best scriptwriting and best directing) for his TV play "Bikol Pakhir Gaan", while actor Fazlur Rahman Babu for "Panjabiwala" and actress Nowha Munir Dihan for "Bikol Pakhir Gaan" received the best critic awards for TV play acting.
Later Habib-Nancy with Topu-Tisha, Sajal-Sarika and Fardin-Nowshin performed the song "Bahir boley durey thakuk."
Awards for acting in films in the popular choice category went to anchor Chanchal Chowdhury for the film "Monpura" and actress Shabnoor for the film "Bolbo Katha Bashor Gharey".
"Third Person Singular Number" bagged the best critic award for film. Faridur Reza Sagor received the award on behalf of Impress Telefilm while Mostafa Sarwar Farooki was adjudged the best director for the same film in the same category.
The best critic award for acting in films was shared by famed artiste Mamunur Rashid for the film "Monpura" and singer Topu for the film "Third Person Singular Number." Actress Tisha also bagged the best critic award in film acting for the film "Third Person Singular Number."
At the end of the day, popular singer Kumar Bishwajit, along with cricketers from the Bangladesh National Cricket Team, children and several award winners rendered "Jegey Otho Bangladesh ", composed by Shawkat Ali Emon.