AKTEL rebrands itself as focus shifts to rural market
Robi is new brand name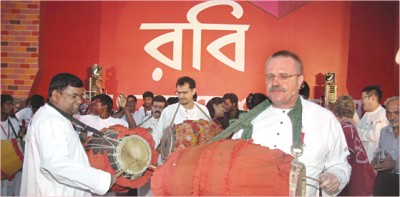 Axiata (Bangladesh) Ltd has rebranded itself with a new look by introducing Robi, the new brand name for the company, to take its products to the mostly untapped rural market.
'Robi' replaces the earlier brand name of 'AKTEL'. The company launched branding campaigns -- Bangladesh Mela -- at more than 70 spots across the country on Saturday, where local singers performed until yesterday. It also introduced a new brand logo.
AKTEL, initially a joint venture between Telekom Malaysia and the local AK Khan Group, launched services in 1997 in Bangladesh. Later, the company was renamed Axiata (Bangladesh) Ltd after Japanese NTT DoCoMo bought AK Khan's 30 percent share in AKTEL in 2008.
Axiata is now aiming to localise all of its branding. The word Robi has been chosen as it carries a range of meanings representing the emotional and cultural bonds of Bangladeshis.
"We aim to develop an emotional link with the culture and roots of this nation," said Michael Kuehner, managing director and chief executive of Axiata (Bangladesh) Ltd, at a press meet at Suhrawardi Udyan in Dhaka.
The mobile operator launched the brand at sunrise .
"As Bangladesh's future telecom market will be rural-based, identification with a Bengali word is expected to add value," said Biddyut Kumar Basu, chief commercial officer of Axiata Bangladesh.
He said under the new brand name, Axiata is going to offer a wide range of affordable services, including minute call rates between Tk 0.40 and Tk 1.48 for different customer segments.
Axiata launched its re-branding activities at a time when other operators in the market quietly began a price war.
The entry of Indian Airtel has possibly prompted operators to concentrate on the rural market.
The market's top operator Grameenphone announced new price plans and unveiled three new packages, charging between Tk 0.49 and Tk 0.99 a minute.
Banglalink also lowered call charges to Tk 0.68 a minute. Axiata presently offers calls at prices between Tk 0.68 and Tk 1.48 a minute.
Bangladesh's total mobile subscriber base was 54.15 million as of February 2010. Grameenphone is the market leader with 23.75 million customers, followed by Banglalink with 14.13 million and Robi with 10.31 million.
Meanwhile, in Chittagong, a daylong programme to unveil the new logo was also held on DC Hill premises.