Roundtable stresses guideline to get private sector in CSR funding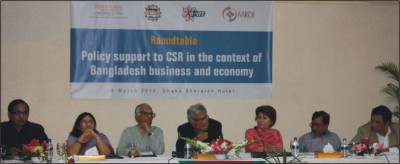 A set guideline is needed to woo the private sector for funding under Corporate Social Responsibilities (CSR), noted economist Professor Wahiduddin Mahmud has said.
"Generally the government tends to limit the scope for CSR funding. It should be specified and scope has to be widened, as many institutions now intend to provide more and more fund to help education, health and many other sectors," he told a roundtable in Dhaka yesterday.
Held at a city hotel, the discussion on 'Policy Support to CSR in Bangladesh Business Context' was organised by the Management Resource Development Initiative (MRDI) in association with Manusher Jonno Foundation (MJF), Federation of Bangladesh Chambers of Commerce and Industry (FBCCI) and Bangladesh Federation of Women Entrepreneurs (BFWE).
The main objective of the roundtable was to identify problems across the country that hold back community development at grassroots level, find solutions to those problems, and then motivate the corporate sector to channel their CSR funds into the actual act of resolving the problems.
Prof Mahmud also emphasised ensuring a monitoring regime for CSR funding, as there is a risk to channel black money through CSR spending.
He suggested validating political funding of the businesspeople saying that it would help bring transparency and democratic development in the country.
Dr Mashiur Rahman, adviser to the Prime Minister on economic affairs, Prof Mustafizur Rahman, executive director of Centre for Policy Dialogue, Annisul Huq, FBCCI's president, Anis-Ud-Dowla, president of Metropolitan Chamber of Commerce and Industry, Rokia Afzal Rahman, BFWE's president, and Shaheen Anam, MJF's executive director, also spoke.
Moazzem Hossain, editor of The Financial Express moderated the roundtable.
Sayed Aminul Karim, member of the National Board of Revenue, said CSR practice is a culture and there is no much link with tax incentive. In this context, he pointed out that investments in some sectors, including children's health and education, are almost nil despite government's announcement to allow incentives to these sectors for CSR activities since 2009.
Annisul Huq said the corporate sector needs policy support so that the sector can enjoy tax rebate against their CSR expenses.
Rasheda K Chowdhury, a former adviser to a caretaker government, said CSR can be defined as the responsibility of the corporate sector in making changes in socio-economic aspects.
She suggested the government reduce bureaucratic tangles when private enterprises want to donate fund in CSR activities.
Prof Mustafizur Rahman said CSR is considered an instrument for making business more committed towards social needs and national development through ethical, legal, social and commercial conduct.